Merkel Questions German Auto Chiefs' Bonuses
By and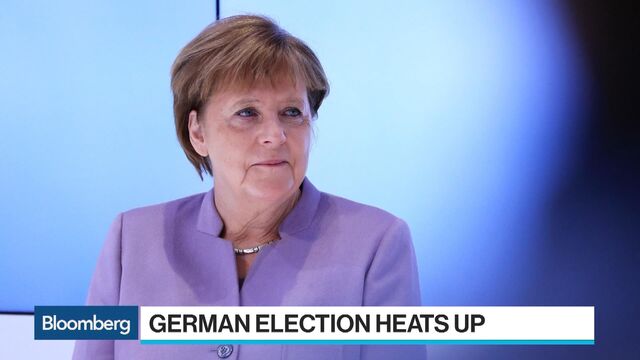 German Chancellor Angela Merkel criticized bonuses for auto executives, suggesting they may be too high amid a diesel scandal that's become an issue in next month's national election.
Merkel was asked during a live online interview by Bild newspaper whether "bonuses in the millions" are justified after Volkswagen AG's emissions cheating scandal, which led to extra regulatory scrutiny of the industry and triggered the recall of some some 5 million diesel cars in Germany, also including BMW AG and Daimler AG models.
"No, I don't think that's justified," Merkel responded in Berlin on Monday. "I also don't know how the auto industry will react. There are supervisory boards on which labor representatives sit. I think they should act more sensitively than they did in the past."
Both Merkel and her Social Democratic challenger, Martin Schulz, are criticizing auto executives in the final stretch of the campaign for Germany's Sept. 24 election, though the chancellor has also warned against "demonizing" a key export industry. At a campaign rally later Monday, she said auto workers and diesel owners shouldn't have to pay the price.
"It's not the people working in the German auto industry who made mistakes," but industry leaders, Merkel said at a rally of her Christian Democratic Union party in the North Sea beach town of St. Peter-Ording.
Pressed on Sunday in a town-hall format on broadcaster RTL, Merkel told a dissatisfied audience member who identified himself as a Volkswagen owner that "I am angry" about the diesel scandal.
Before it's here, it's on the Bloomberg Terminal.
LEARN MORE