Five Things You Need to Know to Start Your Day
Get caught up on what's moving markets in Asia.
By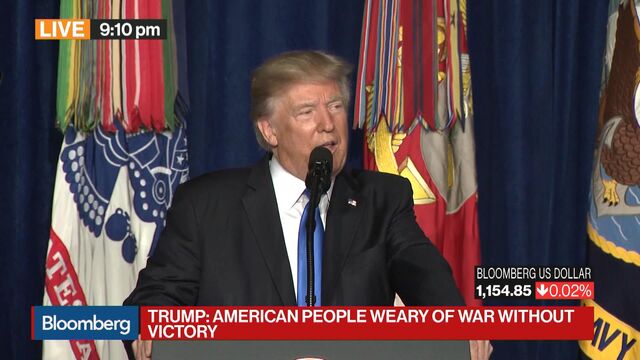 Want to receive this post in your inbox every morning? Sign up here.
Trump to give speech on Afghanistan, foreign investors ditch South Korean debt, and Republican leaders promise a debt ceiling lift. Here are some of the things people in markets are talking about.
Afghanistan, Again
U.S. President Donald Trump will kick off the post-Bannon era with a speech on Afghanistan and South Asia starting at 10:00 a.m. Tokyo time. The war in Afghanistan is the longest-running conflict for the U.S., begun in the wake of the terrorist attacks on Sept. 11, 2001. The president and members of his defense and foreign policy teams gathered at Camp David on Friday to determine America's future role. Generals in the region have previously recommended deploying more forces to the war-torn country, in which the Taliban and Islamic State currently control big swaths of territory. Trump gave Defense Secretary James Mattis the authority to determine the appropriate level of troops back in June.
Foreign Flight
South Korea's bond market is starting to react to the war of words between North Korea and President Trump. Foreign investors sold a net $415 million in South Korean notes last week, which is only the second such instance since November. The U.S. and South Korea are conducting their annual military drills, with President Moon Jae-in warning his northern neighbor not to use the exercises as a pretense to escalate hostilities. A U.S. missile system deployed at a South Korean golf course site is causing problems for Lotte Shopping Co., which made the land available for this purpose. South Korea's biggest department store operator has seen its Chinese business suffer because Beijing opposes the defense system, dubbed Thaad.
'Zero Chance'
Republican Senate Majority Leader Mitch McConnell sought to reassure nervous bondholders that the United States will always pay its debts, saying that there is "zero chance" that Congress won't raise the nation's statutory borrowing limit before it's breached this autumn. Treasury Secretary Steven Mnuchin, for his part, said his desire was for a "clean raise" of the debt ceiling rather than one that was tied to decreases in government expenditures.  He also hinted that the carried interest tax loophole may not be fully eliminated. Investors have already started to demand a higher yield for Treasury bills that mature in early October versus ones that come due at the start of November. A prolonged debt ceiling showdown may also affect financial markets more broadly.
Defense Wins
The S&P 500 Index pulled out of the red late in the day to eke out a slight gain, breaking a two-session losing streak. Defensive sectors outperformed; safe havens like gold also gained. Crude oil fell more than 2 percent after data released Friday showed investors trimmed bullish bets on West Texas Intermediate. The U.S. dollar trailed all its G10 peers on Monday while U.S. 10-year Treasury yields also edged lower. 
Futures Mixed
S&P/ASX 200 futures are marginally up while Nikkei 225 futures are trading modestly to the downside ahead of the open. The MSCI Asia Pacific Index was little changed to open the week, with Chinese stocks faring particularly well among regional benchmarks. Elsewhere in Asia, Thailand's beat on second-quarter GDP has analysts betting on a pickup in the nation's underperforming equities. Political turmoil stemming from the exit of Nawaz Sharif has helped push Pakistani stocks into a bear market.
What we've been reading
This is what caught our eye over the last 24 hours.
Before it's here, it's on the Bloomberg Terminal.
LEARN MORE