Catalan Police Kill Man Suspected of Barcelona Terror Attack
By , , and
'Suspicious man' shot in town about 28 miles from Barcelona

Attacks in Barcelona, Cambrils last week left 15 dead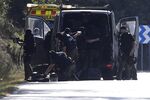 Police shot dead the man suspected of driving the van that rammed into pedestrians in Barcelona last week, ending a five-day manhunt to track down the perpetrators of the worst terror attack in Spain since 2004.
Younes Abouyaaqoub was shot in the town of Subirats, some 45 kilometers (28 miles) from Barcelona, Catalonia's police said on its Twitter account. Abouyaaqoub was carrying a fake explosive belt, a spokeswoman for the police said by phone.
Catalan police have been on a hunt across the region since attacks on the afternoon of Aug. 17 and the early hours of Aug. 18, killed 15 people and left five suspected terrorists dead. The violence started when a van plowed into pedestrians in Barcelona's iconic Las Ramblas area. Police believe the driver stabbed another victim to death when he hijacked a car to make his getaway.
Police suspect the terrorist cell was also behind the explosion at a house in the town of Alcanar some 200 kilometers from Barcelona on Aug. 16. The terrorists were probably preparing a more extensive attack with explosives and changed their plans after accidentally blowing up the building where they were making preparations, according to police.
The Catalan police, known as Mossos d'Esquadra, believe the terrorist cell was formed by a core of 12 people, police chief Josep Lluis Trapero said in a news conference Monday. Of those, six have been killed by police including Abouyaaqoub, four captured and two are believed to have died in the explosion at the house, Trapero said.
Islamic State said it was responsible for the attacks, according to the SITE Intelligence Group. While the police believes it has dismantled the core terrorist cell that led the attacks, the investigation is still not over, said Trapero.
"We keep working," he said. The investigation will now broaden beyond Spain to see if the attackers received international help, said Trapero.
Spanish Prime Minister Mariano Rajoy congratulated the Mossos and other security services for their "magnificent work." "Together we will overcome terrorism," he said in a tweet.
The Barcelona violence marked the worst terror attack in Spain since March 2004 when about 200 people were killed in Madrid by bombs on early morning commuter trains.
Before it's here, it's on the Bloomberg Terminal.
LEARN MORE