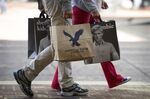 Summer is starting to wind down, and that means retailers are gearing up their efforts to grab a piece of the annual ritual that is back-to-school shopping.
It's a crucial time of year for everyone from sellers of school and office supplies to electronics chains. But it's a particularly important moment for the giants of the teen-fashion world -- especially struggling labels such as American Eagle Outfitters Inc. and Abercrombie & Fitch Co. that could really use a boost. 
Both retailers continue to grapple with declining mall traffic and the fallout from the high-school set's disdain for logo-splashed looks. 

But if you compare how these two retailers are positioned, the advantage has got to go to American Eagle.
The chain has shown signs of resurrection -- in particular, it has posted nine consecutive quarters of revenue growth at stores open more than a year. It's also seen real strength lately in jeans sales, an important cornerstone of the business.

Abercrombie, though, is still sputtering, despite efforts to speed up its supply chain to better chase after trends. It still doesn't have a merchandise assortment that is making consumers want to open their wallets. 

Both companies have been eager to pull back on the discounts and promotions that have practically become a requirement for getting shoppers into their stores. But over the last few years, only American Eagle has made headway on improving its gross margin. (It hasn't completely put the promotional pressure behind it, though: Last quarter, the company had to resort to offering more deals when business was slow.)
American Eagle also has its Aerie lingerie business, which should be a major source of optimism. The chain is growing explosively, riding a changing tide in customer preferences toward comfy undergarments like bralettes and away from more "va-va-voom" styles a la Victoria's Secret, which delivered a dismal 14 percent decrease in comparable sales in its latest quarter. As Victoria's Secret struggles, Aerie has a chance to fill a real void in the market. 1
Meanwhile, Abercrombie's best hope for salvation appears to be its Hollister chain, which now accounts for more than half of the company's annual sales. Hollister is healthier than the Abercrombie brand, and it has done a commendable job of building a loyalty program while courting a notoriously fickle shopping demographic. But its recent track record of comparable sales isn't exactly stellar. 

And Hollister is competing for share in a very crowded space. Of course, it is duking it out with the likes of H&M and Forever 21. But Hollister's surfer-dude vibe means it also competes with stores such as Zumiez Inc. and PacSun.
Add to all of that Abercrombie's announcement earlier this summer that it terminated talks with potential suitors, and it's hard to see a way for this company to get out of its rut. 
To be sure, American Eagle is still adrift in some key ways. Sales of men's tops were so lousy in the most recent quarter that comparable sales in the men's department were dragged into the red. The chain has little room for those kinds of fashion errors. But it still seems to be on better footing than Abercrombie.
When both chains report earnings later this week, we'll get some sense of how they fared in the early innings of the back-to-school rush. And we might also get some insight as to whether they were able to capitalize on the recent reshaping of the retail landscape as sellers scale back their physical footprints. A slew of retailers from Payless Shoesource Inc. to Macy's Inc. have shuttered locations in recent months, and each one of those defunct outposts offers an opening for survivors to scoop up sales. If Abercrombie and American Eagle win over those shoppers now, they'll have a good shot at luring them back in the holiday season and beyond. Of the two, my bet is on American Eagle.
Before it's here, it's on the Bloomberg Terminal.
LEARN MORE