Most Crowded FX Trade Triggers Warning of Pain for Hedge Funds
By
Bearish bets on USD near highest in four years, CFTC data show

Greenback set for near-term rally, say Amundi, Wells Fargo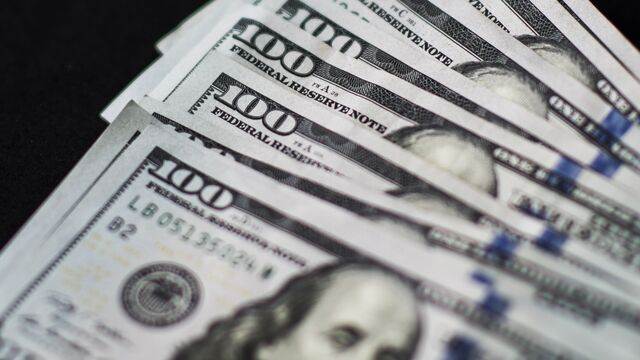 Shorting the dollar, the most crowded trade in foreign exchange, is getting too popular for its own good.
So say investors and analysts from Amundi Pioneer Asset Management to Wells Fargo, who recommend clients pare wagers on near-term greenback weakness after hedge funds piled into the trade, seeking to profit from a slump that's reached 8.6 percent this year. Money managers in a Bank of America survey last week labeled it the second-most overcrowded bet across markets, after speculators amassed the biggest net-short position on the dollar in more than four years, CFTC data show.
"There's just nobody left to get bearish," said Sameer Samana, global quantitative and technical strategist at the Wells Fargo Investment Institute. "The dollar has turned."

The greenback's 2017 slump has been fueled in part by by lackluster economic data and sinking confidence in the Trump administration's ability to carry out pro-growth policies. 
But the bearishness has gone too far, Samana said. He forecasts Intercontinental Exchange Inc.'s Dollar Index will gain four percent to six percent by year-end if the Federal Reserve starts the process of reducing its balance sheet in September and raises interest rates one more time this year. He's neutral on the dollar in the longer term.
Meanwhile, comparatively low rates, slowing economic growth and underestimated political risk in Europe will start to weigh on the euro, which has outperformed the dollar this year, Samana said.
He's far from alone in calling for a near-term reversal. 
"The positioning is so skewed" against the greenback, said Paresh Upadhyaya, a portfolio manager at Amundi Pioneer Asset Management, which manages about $83 billion. "It's the number one factor behind my short-term positive view on the dollar."
Longer-term, Upadhyaya is more bearish on the U.S. currency, seeing fair value in the range of $1.20 to $1.25 per euro over the next one to two years, compared with about $1.1760 currently.
Hedge funds and other large speculators maintained net bearish wagers on the dollar near the highest since February 2013, data from the U.S. Commodity Futures Trading Commission showed Friday.
Charles Schwab chief fixed-income strategist Kathy Jones said she sees the dollar gaining three to four percent in the second half, given eventual tightening by the Fed and overweight positioning on the euro. Brad Bechtel, managing director of currencies at Jefferies LLC, says the dollar has reached a trough.
"All it will take is one little catalyst," Bechtel said on the dollar's rebound. Any progress on U.S. tax reform or a stimulus bill could do the trick, he said. "That squeeze could happen pretty quickly and be pretty violent."
— With assistance by Lananh Nguyen
Before it's here, it's on the Bloomberg Terminal.
LEARN MORE