Missiles in Golf Course Hurt Lotte in China as It Plans Bonds
By and
Lotte Shopping plans about $300 million dollar bond offering

Firm may adjust its China business if no changes by 1H 2017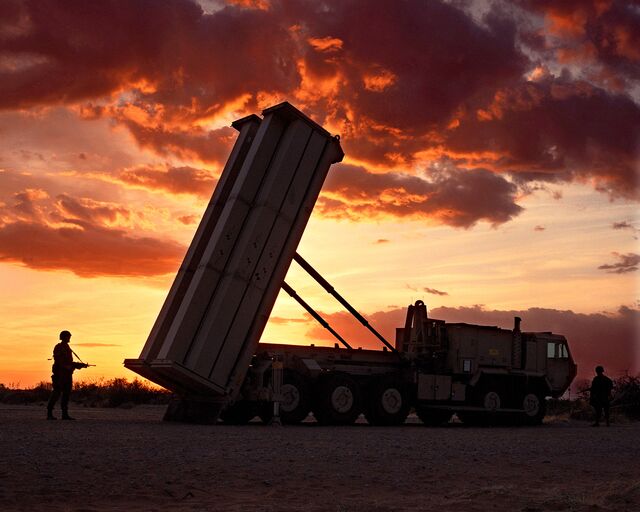 A U.S. missile defense system placed in a South Korean golf course site is leading to pain for Lotte Shopping Co.'s China business, prompting the company to consider injecting more funds to support its operations there.
South Korea's biggest department store operator already poured 360 billion won ($315 million) into its China business in March. It's now considering raising funds via a dollar bond sale by a Hong Kong unit that would be guaranteed by the Export-Import Bank of Korea. A Lotte Shopping executive said the issuance amount would be about $300 million, part of which will be used to support its China operations.
The company's aggressive expansion in China since 2008 has hit a snag since it provided land to the South Korean government that now houses the missile defense system known as Thaad, a deployment that Chinese authorities oppose. China forced Lotte to suspend operations in 87 out of 99 Lotte hypermarkets starting March for alleged violations of fire-safety rules, resulting in a record 416 billion won of net loss in the first half in the country.
"Lotte's China exposure is relatively high compared with other retailers, so it's affected more," said Wan Hee Yoo, a senior credit officer at Moody's Investors Service. "No one can tell when the China issue will end. It's hard to predict what will happen to its China business."

Lotte Shopping said the other 12 stores in China have also virtually stopped operations, as locals stay away amid the controversy. About 10 percent of employees in the country have walked away from their jobs because of the prolonged suspension, as the firm reduces monthly salaries, a company spokesperson told Bloomberg. Lotte has said it has fixed the problems with fire safety alleged by the Chinese government.
While China accounted for only about 4 percent of its total sales in 2016, the retailer has been betting on the market as its domestic business struggles. In Korea it's faced increasing competition from online retail channels, and an aging population means reduced consumer demand. Department stores' operating profit decreased 56 percent in the second quarter. Fewer Chinese tourists in South Korea also took its toll: they dropped 66 percent from a year earlier in the second quarter.
See also: Thaad deployment has weighed on Hotel Lotte's business too
Lotte Shopping is graded Baa3 by Moody's and BBB- by Fitch Ratings, both the lowest investment level. While market expectations of debt nonpayment remain low, the probability has climbed amid the military tensions, to 0.37 percent as of Aug. 17 from 0.19 percent on June 14, according to Bloomberg's default-risk model. The model takes into account company finances and stock moves. The company's shares slid 4.3 percent on Monday, the sharpest drop in three weeks. That compares with a decline of only 0.1 percent in the Kospi index.
Lotte Group executives have said they have no plans to pull out of China, where it is planning to build a 3 trillion won theme park with shopping malls and apartments in Shenyang. However, if there are no meaningful changes by the first half of next year, Lotte Shopping may mull plans to improve efficiency, such as adjusting business portfolios or restructuring some stores in the country, the Lotte Shopping executive told Bloomberg.
Shinsegae Response
Lotte isn't the only Korean firm hurt by the Thaad controversy. Shinsegae Group, another retail giant, will discontinue its E-Mart discount store business in China, Chung Yong-Jin, the group's vice chairman, told reporters in May. E-Mart has six discount stores in China.
The land that Lotte Shopping provided to the South Korean government is in Seongju county, more than 200 kilometers (125 miles) southeast of Seoul. Tens of thousands of troops from the U.S., South Korea and several other countries will conduct drills this month to prepare for a possible war with North Korea.
Lotte Shopping will hold a roadshow in Asia starting today for the bond sale by its unit Lotte Shopping Business Management (Hong Kong) Ltd., a person familiar with the matter said.
"Although losses in its China business deepened due to the suspension of operations, there's likely to be decent demand for the bonds given the Kexim guarantee," said Park Jin-Young, a credit analyst in Seoul at HMC Investment Securities Co. "It's not that risky for Kexim as well considering Lotte Shopping won't default, though it might face rating downgrades."
Before it's here, it's on the Bloomberg Terminal.
LEARN MORE