New Zealand Labour Party Eyes Political Redemption Amid 'Jacinda-Mania'
By
Labour opposition launches campaign to win Sept. 23 election

Ardern says tackling child poverty is a key issue for her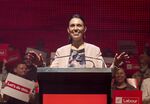 New Zealand's main opposition Labour Party, buoyed by a surge in the polls under new leader Jacinda Ardern, launched its campaign to win next month's election with a pledge to close the gap between rich and poor.
Speaking to party faithful in Auckland on Sunday, Ardern highlighted child poverty as a key issue for her heading into the Sept. 23 vote. "We have nearly 300,000 kids living in poverty," she said. "I want to build a country where every child grows up free from poverty, and is filled with hope and filled with opportunity."
Labour, which slumped to its worst defeat since 1922 at the last election in 2014, is seeking to return from the political wilderness and prevent the ruling National Party from winning a rare fourth term in office. Ardern has revitalized her left-leaning party since taking the helm three weeks ago, boosting its support to the strongest in nine years. If she can secure victory, the 37-year-old would become New Zealand's youngest prime minister since 1856.
Ardern squares off against incumbent Premier Bill English, who is set to campaign on a strong economy, tax relief, and National's record of stable government.
Tight Race
Polls suggest it will be a tight contest and that to win, both National and Labour will need the support of the populist New Zealand First Party, which won't say which way it will lean. No party has won an outright majority since the South Pacific nation introduced proportional representation in 1996.
National had 44 percent of the vote to Labour's 37 percent in a One News/Colmar Brunton poll last week, while New Zealand First had 10 percent. Labour could get across the line with the additional support of ally the Green Party, which had just 4 percent in the poll.

National currently rules with the support of three small parties. One of those, United Future, will not be in the mix after leader and sole MP Peter Dunne on Monday announced he won't seek re-election.
Ardern has basked in glowing media attention -- dubbed Jacinda-Mania -- since replacing Andrew Little, who resigned Aug. 1 after the party's worst opinion poll result in 22 years. She is now neck-and-neck with English in the preferred prime minister stakes, with both receiving 30 percent backing in the latest poll.
New Zealand's Trudeau?
Ardern, who has been compared with Canada's Justin Trudeau, said climate change is "the challenge that defines my generation," and her government would "tackle it head on."
"Our rivers are dying. The majority are almost too dirty to swim in," she said. "We do have some hard calls to make. But the government I lead will be a government that listens, then acts. A government that leads, not follows."
Describing herself as "a socially liberal person," Ardern offers a stark contrast with 55-year-old English, a social conservative with six children who became prime minister late last year when John Key unexpectedly stepped down from the role.
While English has a reputation for being boring, he is also regarded as a safe pair of hands. In his previous role as finance minister he steered the economy through the aftermath of the global financial crisis and returned the budget to surplus. Gross domestic product will grow 3.8 percent in the year to March, according to the central bank.
Jacinda-Mania Sweeps New Zealand as Labour Seeks Election Upset
"Yes GDP is rising in New Zealand, and in some respects we're told we're the envy of the world," Ardern said. "But the gap between rich and poor is just getting more and more entrenched."
She cited low wages, barriers to education, and increasing numbers of people living in cars because they can't afford soaring rents amid a housing shortage.
"I want economic success to feel real, and it won't feel like anything but faint praise until it feels real for all New Zealanders," Ardern said. "That is why the markers of success have to change, and I am starting with kids."
National has pledged to loosen the purse strings if re-elected, offering more support for low and middle-income families and relief for all workers by raising tax thresholds. By contrast, Labour would spend more on health and education and specifically target those most in need. It would scrap National's plan, saying it amounts to tax cuts for the rich.
Before it's here, it's on the Bloomberg Terminal.
LEARN MORE