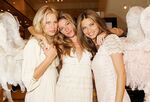 The Victoria's Secret brand just isn't what it used to be, and signs of erosion were present even before shoppers began ditching its stores. But now that we have the hard evidence, it's difficult to imagine how the retailer and its parent company, L Brands Inc., come back from this. 

There was a time not all that long ago when Victoria's Secret was the place to shop -- whether for teens enamored with its line of Pink lounge wear and body splashes, or women seeking the latest unmentionable fashions. Any beach visit was an advertisement for the brand's swimwear collection and in schools and malls, the scent of Love Spell was unavoidable. Even a long-running TV show -- "America's Next Top Model" -- was partly born out of Tyra Banks's success as a Victoria's Secret Angel. There was also Gisele Bundchen, Heidi Klum, Adriana Lima, and so on. It was whimsical, aspirational and just fun.
But the times changed and Victoria's Secret didn't change with them. Where high-fashion clothing brands still get away with targeting impossibly perfect shapes and sizes, Victoria's Secret is just a mall retailer and its shoppers increasingly don't conform to those standards or even its cookie-cutter designs. Its bras are made for the smaller-busted and many cost far too much at $50 and up. 1  Women's average clothing size in the U.S. may depend on how you slice the data, but I can tell you it's a lot closer to 16 than to a size 2. And just like every other apparel chain, online retailers are presenting major competition for Victoria's Secret. 
It's obviously not alone in struggling to satisfy consumer preferences around fashion, fit and cost. But it has restricted itself in all those ways and now the chain -- and its shareholders -- are paying the price. Shares of L Brands fell this week to a six-year low after it gave a weak profit forecast and reported that same-store sales for Victoria's Secret fell 14 percent in the latest quarter. Bath & Body Works makes up about 30 percent of L Brands's revenue and it grew faster than expected last quarter. But the lingerie chain is still the biggest determinant of L Brands's performance.

In previous cycles when apparel retailers took stock-market hits, opportunistic suitors might have run the numbers. In this case that's unlikely -- and not just because L Brands is so large with a market cap of $10.8 billion. It's also because there isn't a clear solution for its problems. Even putting internet pressures aside, Victoria's Secret needs an extreme overhaul. And whenever retailers fall on tough times like this, I ask myself, if Victoria's Secret weren't already in existence would someone create it today? As far as intimate apparel broadly speaking, lots of competitors have emerged, from American Eagle Outfitters Inc.'s newer Aerie brand to websites with more inclusive sizing. Victoria's Secret isn't filling much of a need anymore, especially now that it's stopped making swimwear. 
The other question is whether L Brands could take a page out of Coach Inc.'s playbook by acquiring another retailer to drive growth and cost efficiency. But L Brands already has quite a bit of debt, so dealmaking for this high-yield issuer would be risky. 
While analysts covering L Brands still skew more optimistic, we've seen them get burned by other retailers recently that appeared sturdier and more resistant to the industry's decline than they actually are. The reality is, Victoria's Secret is a lot more vulnerable. Its angel wings have been clipped and any small repairs L Brands makes can't grow them back.
A survey from another lingerie retailer puts America's average bra size at 34DD, meaning a great number of shoppers are well above that measurement and can't comfortably shop at Victoria's Secret.
Before it's here, it's on the Bloomberg Terminal.
LEARN MORE