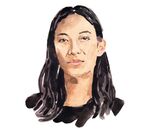 As an ­undergraduate intern at Teen Vogue, Alexander Wang was charged with calling up top fashion houses and asking to borrow clothes for photo shoots. He was frequently rebuffed: "That audience doesn't understand this level of fashion!" the 33-year-old clothing designer says he heard over and over again.
Wang knew better. Relying on a gut sense honed by observing his precociously styled classmates at the Drew School in San Francisco and working in boutiques and ­department stores, he took a leave of absence from Parsons School of Design in 2005 to start Alexander Wang Inc. His mother served as chairman, and his sister-in-law was the chief executive officer. "We were profitable from Day One," he says. Now the company says it takes in $150 million in annual revenue and that sales are growing at a ­double-digit rate.
"I like to break high luxury down and bring it back to Earth," Wang says. His clothing has a louche, late-night allure that draws heavily from the American vernacular. Marina Larroudé, fashion director at Barneys New York, credits his 2010 football-inspired collection with seeding the now-­rampant athleisure trend. "That collection would still be a hit with the general audience today," she says.
Balenciaga came calling in 2012, and for three years, Wang served as ­creative director of both his own label and the storied fashion house, part of luxury conglomerate Kering. "Before Balenciaga, I never had a quote-­unquote job," he says. "I felt red-taped." Last year he left Balenciaga and took on the roles of CEO and chairman of his company, making him one of the few designers to have full control over his enterprise.
Wang has since renewed his focus on accessories, including boots and sandals with a signature cutout heel, which now account for half of revenue. He's also begun a collaboration with sportswear colossus Adidas AG that finds the brand's trefoil logo flipped upside down and affixed to clothes suited for both health clubs and dance clubs. The first collection, which he introduced last September, set sales records. When the second dropped in late July, its unisex cycling singlets and ­fluorescent yellow hoodies were originally sold only to pedestrians capable of reading product codes from posters scattered about Manhattan.
To Wang, such marketing novelties amount to more than hype. They're about "creating a deeper involvement in our consumers' lifestyle," he says. "All the building blocks—building a brand, communicating with the customer, delivering the product—have changed. As an 11-year-old brand, it's extremely important for us to adapt."
Before it's here, it's on the Bloomberg Terminal.
LEARN MORE