Wal-Mart Gives Tepid Outlook
By
Third-quarter forecast comes in below many analyst estimates

Retailer has been spending heavily to catch up with Amazon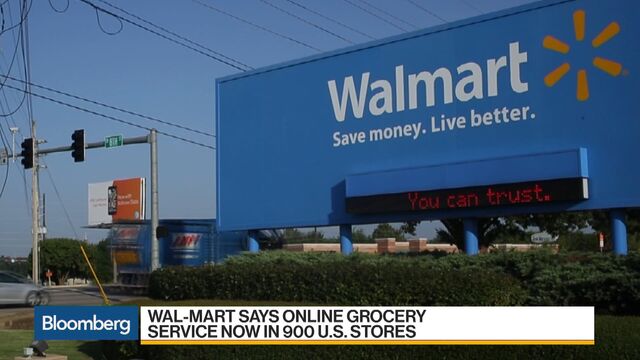 Wal-Mart Stores Inc., racing to fend off Amazon.com Inc. and a fresh attack from European grocery discounters, gave a lukewarm earnings forecast for the third quarter, a sign that heavy spending aimed at maintaining its edge is taking a toll.
The shares slid Thursday after the retail giant said that profit will be 90 cents to 98 cents a share in the period. Analysts had projected a number at the top of that range.
The outlook tempered enthusiasm after Wal-Mart posted its best grocery sales growth in five years last quarter, helped by the end of a record-setting bout of food deflation. The grocery business accounts for more than half of Wal-Mart's revenue, but it's under attack like never before. Most notably, Amazon is acquiring organic-food purveyor Whole Foods Market Inc. in a bid to become a national grocery powerhouse.
"Amazon is an unbelievably good competitor," Greg Foran, head of Wal-Mart's U.S. stores, said in an interview. "I don't know for sure what they are going to do. But I like the fact that they are a good competitor and that Aldi and Lidl are out there because it lifts our performance."
The shares declined as much as 3.3 percent to $78.33 in New York, the biggest intraday drop in two months. Wal-Mart had been up 17 percent this year through Wednesday's close.
The downbeat forecast illustrates the high cost of Wal-Mart's push to catch up to Amazon online. Chief Executive Officer Doug McMillon has channeled more than one-third of the company's capital spending budget into digital initiatives -- like specialized e-commerce distribution centers -- up from just 20 percent a few years ago.
"We have to take things that are working and lean into them," Wal-Mart Chief Financial Officer Brett Biggs said in an interview.

Profit margins on online sales are narrower than those for in-store sales, due to the costs of fulfillment. Wal-Mart's gross profit margin narrowed for the first time in two years, according to Stifel Financial Corp. analyst Mark Astrachan.
U.S. same-store sales rose 1.8 percent in the second quarter, matching the gain projected by analysts. Excluding some items, earnings amounted to $1.08 a share in the period, which ended on July 31. Analysts estimated $1.07. The Bentonville, Arkansas-based company raised the lower end of its full-year earnings guidance to $4.30 a share, with the upper end remaining at $4.40.
Online Growth
The question now is whether Wal-Mart can battle Amazon while also keeping Aldi and Lidl at bay. The German no-frills chains are expanding into the U.S., targeting the same lower-income shoppers that Wal-Mart depends on most.
Though costly, Wal-Mart's investments in e-commerce are helping boost its top line. The U.S. online division saw gross merchandise volume -- a measure of all the goods it sells -- increase 67 percent in the second quarter.
Wal-Mart has introduced a simpler way to reorder products bought frequently, and it's offering discounts on thousands of items purchased online and picked up at a store.
"We are saving costs by not paying for last-mile delivery," said Marc Lore, head of U.S. e-commerce operations. "We will expand that over time."
Total revenue climbed 2.1 percent to $123.4 billion.
Walmart's Progress Should Be Good Enough for Now: Gadfly
Wal-Mart also is facing a renewed threat from longtime brick-and-mortar rival Target Corp. That company boosted its annual forecast earlier this week after improving both its online sales and customer traffic. CEO Brian Cornell aims to refurbish stores, open more small locations in cities and speed the delivery of online orders.
Target, Wal-Mart and Amazon are all vying for customers during the back-to-school season, the biggest selling period after the Christmas holidays. Parents are more likely to shop for pencil cases and backpacks in stores with their kids rather than online, according to pollster ORC International, which could be an opportunity for brick-and-mortar retailers to boost traffic.
Target's Cornell said consumers are waiting until closer to the start of school to do their shopping. To entice parents, Wal-Mart and Target have collected student shopping lists for schools across the country and and made them easily available.
"As Wal-Mart is a key player across most back-to-school/back-to-college product categories," Moody's Corp. analyst Charlie O'Shea said, "we would expect further promotional activity."
Before it's here, it's on the Bloomberg Terminal.
LEARN MORE