Venezuela's Maduro Regime Steps Up Crackdown on Dissidents
By and
Secret police raid home of former public prosecutor Ortega

Constituent assembly orders investigation of opposition heads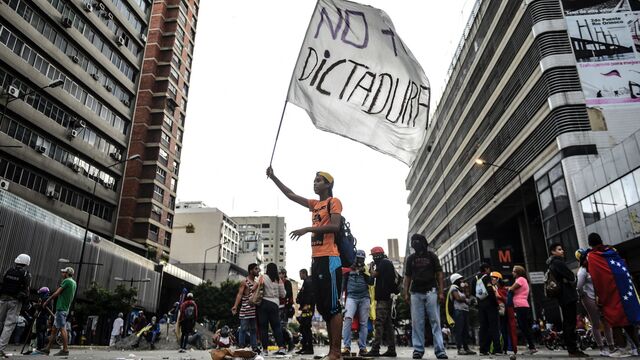 Venezuela's government is intensifying its crackdown on critics of President Nicolas Maduro, ordering the detention of the husband of former Public Prosecutor Luisa Ortega Diaz and separate investigations of prominent opposition leaders.
Ortega said in a post on her Twitter account that secret police were raiding the family's home in Caracas. The Supreme Court later ordered the arrest of her lawmaker husband, German Ferrer, accusing him of leading an extortion ring out of the prosecutor's office.
"It's revenge for fighting against the totalitarianism that exists in Venezuela," she wrote on Twitter, blaming the raid on Maduro and Diosdado Cabello, a high-ranking socialist party official who brought the suit against her husband. Ortega had been the highest-ranking member of Maduro's administration to break ranks with the government before she was deposed this month by a newly convened legislative super body, the constituyente. She has since fled and gone into hiding.
The constituyente late Thursday stripped Ferrer of his parliamentary immunity and authorized the Supreme Court to put him on trial.
The raid came just as a so-called truth commission established by the constituyente announced investigations into Julio Borges, president of the opposition-controlled National Assembly, and Freddy Guevara, the assembly's vice president, claiming that they promoted violent anti-government protests that have left more than 100 dead.
The campaign of repression is already well advanced. The Venezuelan chapter of Transparency International says that 40 of 77 opposition mayors have been threatened or punished by the government since 2013, with some removed and jailed, some having their powers curtailed and some barred from leaving the country.
"This is an atrocity," said Ramon Muchacho, the former mayor of the Chacao district in Caracas, an opposition hotbed, who has fled to Miami. "The truth commission is little more than a firing squad."
For five months, the South American nation, which has the world's largest crude-oil reserves, has been rocked by violent anti-government demonstrations. Maduro has attempted to consolidate power amid a failing economy and record-low approval ratings. He installed the 545-delegate constituyente last month, which supersedes all other government branches and is rewriting Venezuela's constitution. While the opposition warns of an impeding dictatorship, most parties begrudgingly agreed to participate in regional elections scheduled for October, fearing that a boycott could cede even more power to Maduro.
Since the constituyente's installation, the opposition ticket has been banned in seven states, while the vote -- now slated for October -- has been brought forward by two months.
As Maduro moves to disenfranchise opponents, his economy is crumbling with triple-digit inflation. Oil prices are half what they were three years ago, and crude output has dwindled in a country that gets 95 percent of its export revenue from that resource. Foreign reserves are at a 15-year low of about $10 billion -- and the nation and its state oil company, known as PDVSA, are due to pay about $13 billion in debt before the end of 2018.
— With assistance by Nathan Crooks, and Noris Soto
Before it's here, it's on the Bloomberg Terminal.
LEARN MORE