Police Hunt Barcelona Terror Suspect After Van Attack Kills 13
By , , and
Catalan regional government says death toll could rise

Prime Minister Mariano Rajoy condemns 'jihadi attack'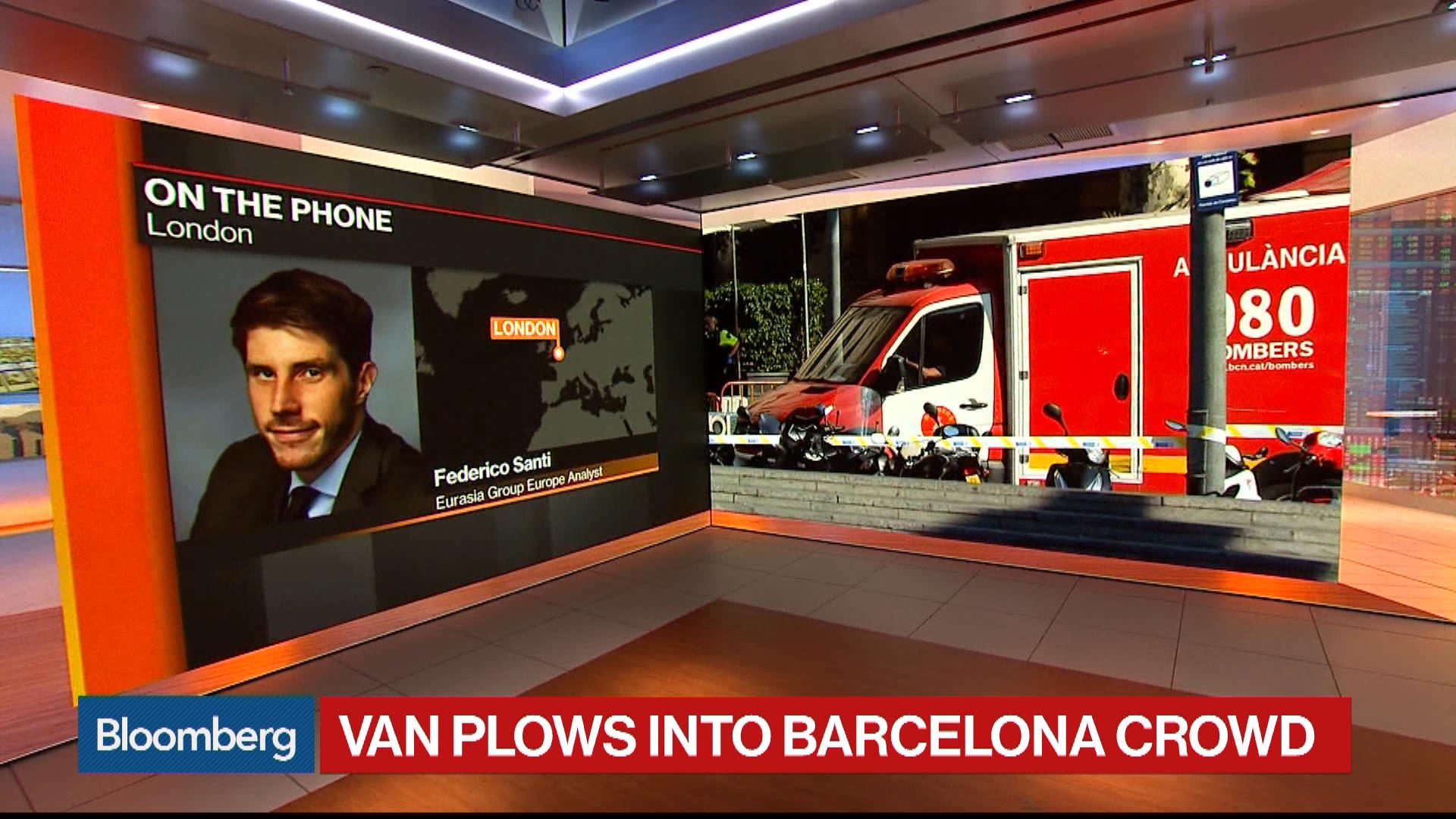 Police in Spain are still hunting the suspected terrorist who killed 13 people by ramming a van into pedestrians on Barcelona's most iconic avenue before fleeing the scene.
With about 100 more people injured, Catalonia's regional government said the death toll could rise. Police arrested two people outside the city in connection with the carnage, but the perpetrator wasn't among them, Catalan officials told a news conference. Police also raised the possibility that an explosion earlier on Thursday that killed one person and brought down a building may be connected to the attack.
The driver mowed into the pedestrianized section of Las Ramblas, knocking people down as he continued for hundreds of meters down the avenue. He then jumped out of the van and fled, according to police. The busy street known for outside cafes and street artists in the heart of Barcelona was strewn with bodies and debris as passersby ran to help the wounded.
"The car came toward me, people were flying in the air -- there were bodies everywhere," Shari Weise, a 54-year-old visitor to Barcelona from California, said by telephone. "The man next to me got hit and I jumped behind a pole, and pulled a 15 year-old boy behind the pole with me."
Images of victims being tended to on the sidewalk are all too familiar in Europe. Terrorists in London drove into pedestrians on bridges in two deadly incidents this year. There was also an attack using a commercial vehicle in Stockholm. Last year, trucks plowed through crowds in Berlin and Nice.
Read more: Terror Truck to 'Mow Down' Enemies Seen in Al-Qaeda Guide

In London, authorities responded by fortifying barriers designed to protect pedestrians. Concrete and metal blocks were erected to separate sidewalks from traffic. In Madrid -- which lived with Basque terrorism for decades before Islamist terrorism became the main threat -- most tourist thoroughfares don't have the barriers that are used to protect institutional targets.
Madrid Bombing
Islamic State claimed the attack, according to the SITE Intelligence Group. Spain has been a target of Islamist-inspired terrorism before. One of the worst incidents in Europe was in Madrid in 2004 when about 200 people were killed by bombs on early morning commuter trains just days before a general election.
Spanish Prime Minister Mariano Rajoy traveled to Barcelona with his deputy and interior minister. Catalan National Assembly, a separatist group, meanwhile halted campaigning ahead of an independence referendum planned for October.
"Terrorists will never defeat a united people that loves liberty in the face of barbarity," Rajoy said in a Twitter posting.
Spain is the world's biggest tourist destination after France and the U.S. and the Catalan city of Barcelona is among its star attractions. Spain received more than 75 million foreign visitors last year and tourism is a key provider of jobs.
— With assistance by Chris Kingdon, Nour Al Ali, Rodrigo Orihuela, and Macarena Munoz Montijano
Before it's here, it's on the Bloomberg Terminal.
LEARN MORE