More Investors Are Saying 'No' to Exorbitant Executive Pay Plans
By and
Seven S&P 500 companies got less than 50% support on pay

Firms that lost 'didn't listen' to what their investors said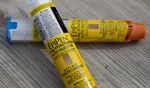 U.S. investors are showing a greater willingness to express their disapproval over executive compensation.
Seven S&P 500 companies garnered less than 50 percent of the votes for their executive-pay plans in the most recent fiscal year, up from six in 2015 and four in 2014, according to data compiled by Bloomberg.
Many of the largest institutional investors have publicly aired their views on corporate governance in recent years and taken firmer stances on compensation plans deemed to be excessive. BlackRock Inc., the world's biggest asset manager, publicly criticized drugmaker Mylan NV in June for failing to address investors' repeated complaints about executive compensation, sidestepping its usual practice of refraining from singling out companies for criticism.

"If the vote is lost, it means the company has not made that phone call to investors, and if it did, it didn't listen to what they said," Anne Simpson, head of corporate governance at California Public Employees' Retirement System, said in a telephone interview.
Low say-on-pay votes typically prompt boards to reach out to shareholders to address their concerns because they can result in negative publicity, fuel activist campaigns and embarrass directors.
Mylan received less than 17 percent support, the lowest vote tally in S&P 500 for the past three years, after it granted Chairman Robert Coury a $97.6 million reported pay package. Bed Bath & Beyond Inc. lost its nonbinding pay referendum for the third straight year with 43.8 percent of voted shares siding with the board. Oracle Corp., which hasn't won a say-on-pay vote since 2011, received 45 percent support.
About four of every five companies in the S&P 500 received at least 90 percent support for the most recent fiscal year, according to data compiled by Bloomberg. Among publicly traded companies whose executives appear on the Bloomberg Pay Index, which ranks the 200 highest-paid managers, seven failed to get majority backing for their compensation plans.

Before it's here, it's on the Bloomberg Terminal.
LEARN MORE