Military Drills Emerge as Obstacle to U.S.-North Korea Talks
By
U.S. and South Korea to start military exercises next week

China wants the U.S. to suspend drills to restart dialogue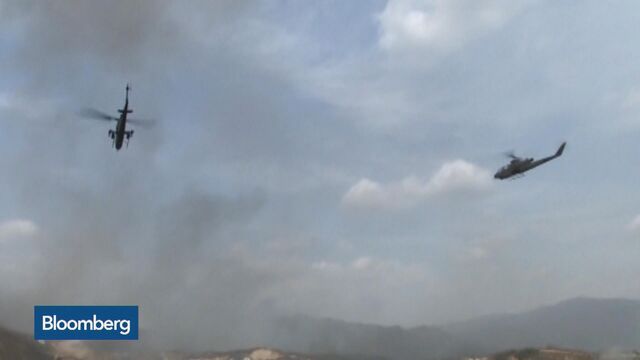 Tens of thousands of troops from the U.S., South Korea and several other countries will conduct drills over the next few weeks to prepare for a possible war with Kim Jong Un's regime.
The annual Ulchi-Freedom Guardian military exercises starting Monday routinely spark condemnation from North Korea, and this year is no different. The state-run Korean Central News Agency this week called them "reckless saber-rattling" and warned that they could spark an accidental war.
The drills are important for another reason: China has called on the U.S. to halt them to start talks with North Korea, part of its "suspension-for-suspension" proposal that would also require Kim to freeze nuclear and missile tests. The U.S. rejects this outright, and scaling down the drills now would make President Donald Trump look weak so soon after his warnings of "fire and fury."

Still, some former American officials and analysts are saying at least some drills should be up for negotiation.
William McKinney, a retired Army colonel who spent more than 40 years involved in U.S.-Korea military relations and planning, said the U.S. should consider suspending larger exercises -- provided it gets something in return. Neither the one next week or a large one usually held in March would impact U.S. readiness, and they could be replaced with more targeted drills that focus on command-and-control systems, he said.
'Bargaining Chip'
"If there is a point in time when a degree of trust exists between the two parties for a quid pro quo agreement, then one or both exercises might be up for being suspended," said McKinney, the non-resident Korea Chair at the Center for Strategic and International Studies. "I am not looking to see a unilateral suspension, but at some point they might be a bargaining chip."
General Joseph Dunford, chairman of the Joint Chiefs of Staff, said on Thursday that the exercises were important for the alliance to maintain the ability to defend itself. They could be reduced if North Korea were to pursue denuclearization and cease ballistic missile tests, he said.
"As long as the threat from North Korea exists, we need to maintain a high state of readiness to respond to that threat," Dunford told reporters in Beijing. Military exercises are "not currently on the table as part of the negotiations in any way."

Tensions on the Korean peninsula appeared to calm down this week after Trump praised Kim for waiting to fire missiles over Japan into waters near Guam. He has previously said military force is an option to prevent Kim from gaining an intercontinental ballistic missile that could deliver a nuclear weapon to the U.S.
Secretary of State Rex Tillerson and Defense Secretary Jim Mattis on Thursday repeated that military force is still on the table, rejecting an assertion by senior White House adviser Stephen Bannon that there's no such option.
'Buck-Passing'
In the past, the drills have raised tensions. During last year's exercises, North Korea launched a ballistic missile from a submarine and put its military on the highest alert.  
Formal talks on North Korea's nuclear program collapsed in 2009, and the U.S. has resisted restarting them until Kim demonstrates a commitment to denuclearization and halts tests of missiles and nuclear devices. North Korea, on the other hand, wants the U.S. to drop its hostile policies before agreeing to talks.
China's proposal for talks isn't sincere, according to Ryan Hass, a fellow at the Brookings Institution in Washington.
"The dual-freeze approach is China's attempt at buck-passing and moral equivalency between U.S. actions and North Korean actions," Hass said. "Buck-passing in the sense that Beijing is not making a genuine effort to leverage a freeze. They are making a genuine effort to pin responsibility on the United States."
This year's Ulchi-Freedom Guardian drill is a computerized command-and-control simulation and will be of similar size to last year's event with no field training, a spokeswoman for U.S. Forces in Korea said.

Burned Before
Some analysts see room to maneuver. Kim's regime only wants the U.S. to cancel military drills that prepare for removing him from power and detonating nuclear weapons, Joel Wit, a former state department official, wrote in the Atlantic magazine on Aug. 13.
"As any informed military planner will tell you, that's possible while also maintaining the readiness of American forces on the Korean peninsula," wrote Wit, who met with North Korean officials in Geneva after Trump's election win. "And had Pyongyang halted testing in 2015, Washington wouldn't be facing the imminent threat of a North Korean ICBM today."
The U.S. has been burned before when it suspended military exercises.
In the 1990s, the large-scale Team Spirit exercises between the U.S. and South Korea were canceled several times in a bid to get the North Koreans to abandon their nuclear program. Pyongyang eventually reneged on an agreement to dismantle its nuclear reactors -- one among many reasons the U.S. doesn't trust North Korea.
Still, that shouldn't stop the U.S. from exploring a deal, said John Delury, an associate professor of Chinese studies at Yonsei University in Seoul.
"If you are going to suspend exercises you should get something pretty good from the North Koreans for it," Delury said. "It is not something to do as a simple goodwill gesture."
— With assistance by Peter Martin
Before it's here, it's on the Bloomberg Terminal.
LEARN MORE