Fed's Yellen to Headline Annual Jackson Hole Policy Conference
By
Fed chair will speak on financial stability on Friday, Aug. 25

ECB's Draghi to also attend the policy symposium in Wyoming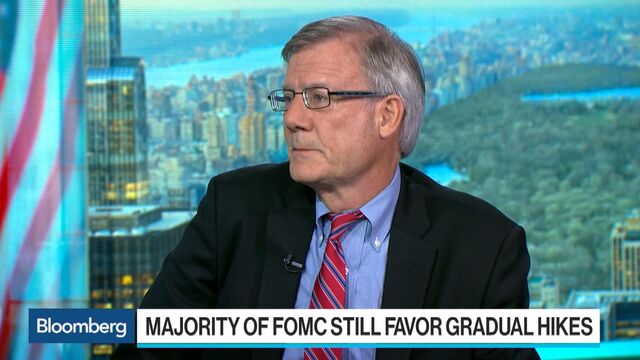 Federal Reserve Chair Janet Yellen will join European Central Bank President Mario Draghi in Jackson Hole, Wyoming next week, setting the stage for a potentially revealing debate over the common challenges facing the world's two most powerful central banks.
Yellen will speak on the topic of financial stability at 8 a.m. local time (10 a.m. in New York) on Aug. 25 at the Kansas City Fed's annual symposium, the Fed said on Thursday. The ECB had already confirmed Draghi's attendance at the gathering of top economists and policy makers. Their get-together comes as the U.S. central bank prepares to start unwinding its $4.5 trillion balance sheet and the ECB weighs when to slow down its own large-scale asset purchases.
"Most global central banks are going into this thinking about tightening," Gennadiy Goldberg, an interest-rate strategist at TD Securities in New York, said before Yellen's appearance was announced. "That's a big sea change."
Draghi won't deliver a new policy message at the Jackson Hole conference, according to a Reuters report based on sources familiar with the situation. Still, at a time when inflation is low across developed economies, baffling authorities who thought declining unemployment would push up wages and prices, any contribution they make at the conference could shed light on how much attention they're paying to recent weak prices.
U.S. inflation fell to 1.4 percent in June, based on the Fed's preferred gauge, and consumer prices in Europe are at 1.3 percent. Both central banks shoot for 2 percent inflation, though the ECB formally aims below, but close to, that target.
Those glacial price gains come even as unemployment has dropped steadily, more than halving in the U.S. to 4.3 percent since its post-recession peak and declining to 9.1 percent from a high of 12.1 percent in Europe. Inflation is also low in Japan, though sub-par price gains have been a longer-lived issue there. 
Jackson Hole is one of the most prestigious conferences on the global central-banking calendar and has been used in the past as a forum to foreshadow policy actions. Former Fed Chairman Ben Bernanke in 2012 used his speech to signal a readiness to take a third stab at quantitative easing to provide additional support to the economy.
Before it's here, it's on the Bloomberg Terminal.
LEARN MORE