Syria's President Assad Declares 'Victory'—With a Trade Fair
By
Iran, Russia among 23 nations to directly participate

Event is a show of confidence and business as usual by Assad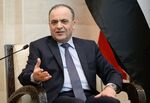 Syrian President Bashar al-Assad and his allies are using the nation's first international trade fair in five years to claim victory over countries that have sought to topple him since civil war erupted in 2011.
The flags of 23 nations participating directly, and 20 others represented by companies, lined the entrance to the exhibition in the capital Damascus ahead of its inauguration by Prime Minister Imad Khamis later on Thursday. Iran and Russia -- which have stood by Assad throughout the conflict -- as well as China top the list of attendees. State-run news agency SANA said firms from France, Germany and the U.K. would be represented through agents.
With the help of Russian and Iranian forces, Assad has tightened his grip on power. His military has retaken strategic areas and major cities from the Syrian opposition, while a range of pro-government and rebel fighters have pushed Islamic State onto the retreat. Calls from Western and Gulf leaders for Assad to step down to enable a negotiated settlement have all but stopped. Peace efforts have made no significant public headway.
"Assad has largely won the Syrian civil war" and will remain in power, former U.S. ambassador Robert Ford told CNN last month. The "grim reality" is that the Syrian rebels fighting Assad with American support have been losing ground, he said.
Large parts of the country are still beyond the control of Assad's military and much of the territory he does rule has been shattered by six years of warfare. Some in Russia have spoken of a rift with an overly confident Assad. But his government clearly feels secure.
Read More: Why Syria's Civil War Resists Resolution: QuickTake.
"The Syrian state is recovering fast" and "it's imperative that we be partners with the Syrian Arab army in victory and in making the best future for our people," Khamis said Wednesday, according to SANA. The 59th Damascus International Fair was "a declaration of economic victory and represents a real and clear readiness to launch the process of reconstruction," he said.
Syria "is sending a message to the whole world" that victory over terrorism and the countries that support it -- a reference to Western and Arab Gulf countries who oppose Assad -- is near, the pro-regime Al Watan newspaper said.
More than six years of war have taken a severe toll on the country, costing the economy $226 billion, according to a new World Bank report. More than 400,000 people have been killed, over half the population driven from their homes and a third of housing has been destroyed or damaged, according to last month's report.
Throughout the conflict, the Assad regime has been at pains to maintain a veneer of normalcy to show it's still functioning and in control. The fair starting Thursday is another such attempt, said Sami Nader, head of the Beirut-based Levant Institute for Strategic Affairs.
"Assad is trying to project confidence and a business-as-usual attitude," said Nader. "The trade fair is sending a message that the new era of Syria's reconstruction has begun and Assad is here to stay."
Ahead of the fair, Tourism Minister Bishr Yazigi told Al Watan that hotel occupancy in Damascus and its suburbs has reached 80 to 100 percent.
More than 200 cyclists took part in an event that ended at the grounds on Monday. Information Minister Mohammad Ramez Tourjman said it showed "the whole world that Syria is moving forward and that the culture of life among Syrians is stronger than terrorism."
Before it's here, it's on the Bloomberg Terminal.
LEARN MORE