U.K. Wage Growth Beats Forecasts But Still Lags Inflation
By
Unemployment rate falls to 4.4%, lowest level since 1975

BOE says the worst of consumer squeeze may soon pass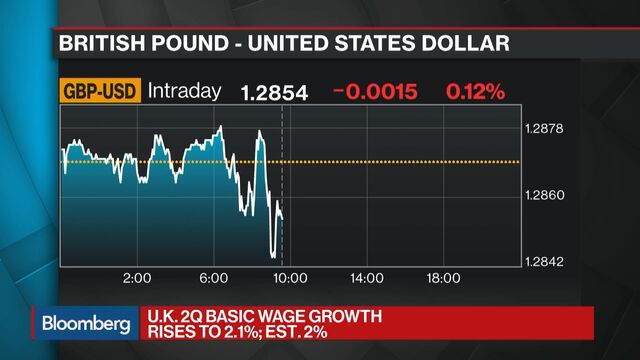 The squeeze on U.K. consumers continued in the second quarter, when the fastest inflation in four years ate into workers' income.
Basic wages rose an annual 2.1 percent in the three months, lagging behind a surge in price growth driven by the pound's decline in the wake of the Brexit vote. That left real incomes down 0.5 percent year-on-year, the Office for National Statistics said on Wednesday.

While households are still being pinched, the unexpected acceleration in wage growth and drop in unemployment pushed the pound higher. The currency climbed from the weakest level since October against the euro, and investors moved forward their expectations for a Bank of England rate hike by the end of 2018 to 89 percent, from 80 percent on Tuesday, according to short sterling.
Still, it's a headache for BOE policy makers that wage growth has failed to sustainably pick up even with unemployment at the lowest in more than 40 years. Officials cut their forecasts for pay growth at this month's Inflation Report, with Governor Mark Carney suggesting that "an element of Brexit uncertainty" was preventing firms from awarding bigger wage increases.
While the BOE expects the squeeze on U.K. pockets to continue for some months, it has said that inflation is near its peak and this may be as bad as it gets. For now, the feeble pay growth is weighing on consumer confidence -- at its lowest level in a year -- and damping demand in British stores.
With consumer spending accounting for a large part of the economy, there are broader implications. Growth slowed in the first half of the year, and economists surveyed by Bloomberg see expansion cooling to 1.5 percent this year from 1.8 percent in 2016, and losing even more speed in 2018.
Jobs Growth
Even with the weaker growth outlook, the lowest unemployment rate since 1975 should be driving up wages. There were 125,000 jobs created in the three months and the unemployment rate fell to 4.4 percent, the report said. That's below the BOE's equilibrium rate of 4.5 percent. In a further sign of labor-market tightness, the number of unemployed people per vacancy was at a record low of 1.9.
Total pay including bonuses rose 2.1 percent, the ONS said, also better than forecast. Adjusted for inflation, it fell 0.5 percent, slightly less than recorded the previous month.
The report also showed that productivity, as measured by output per hour, fell 0.1 percent in the three months through June, recording a second straight quarter of declines.
"It should be a real cause for concern that the U.K.'s productivity has fallen again," said Ann Francke, chief executive of the Chartered Management Institute. "It's becoming increasingly clear that decisive action is needed if we are to end this downward trend."
— With assistance by Harumi Ichikura, Mark Evans, and David Goodman
Before it's here, it's on the Bloomberg Terminal.
LEARN MORE