From Divinity School to Oilfield, Anadarko Architect Is Back
By
New Hackett company buying Oklahoma driller and pipeline asset

Pipeline unit may be spun off as soon as early 2019: Hackett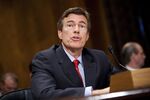 James Hackett, the former chief executive of Anadarko Petroleum Corp. who retired to attend Harvard Divinity School, is back to running an oil company.
Silver Run Acquisition Corp. II, a so-called blank-check company started by Hackett this year, has agreed to acquire an oil explorer and a pipeline firm, according to a statement released late Wednesday. Hackett said in an interview that he learned of the two Oklahoma companies, which were priced at about $3.55 billion, from a friend at Harvard.
Alta Mesa Holdings LP is a closely held explorer with assets in the Stack region of Oklahoma. Kingfisher Midstream LLC has more than 300 miles of pipeline, with Alta Mesa as its anchor customer. The new company, called Alta Mesa Resources Inc., will have a market value of about $3.8 billion and will trade under the ticker AMR on the Nasdaq exchange, according to the statement.
"Not just survive, you really need to thrive during a low-price cycle like now," Hackett said in a phone interview Wednesday, referring to his company's $25-a-barrel profit thresholds. "That's the cool thing about this company. It's an incredible machine at a higher price level, but it works just fine at this price level."
Along with running the new company, the 63-year-old Hackett said he'll begin teaching his first class next week at Rice University in Houston on moral leadership in economic enterprise. He'll teach again in the spring semester at the University of Texas. And all the while, he's in the middle of writing a book on "integrating sacred and secular lives at work."
Hackett, who formed Houston-based Silver Run with backing from private-equity firm Riverstone Holdings, said he will serve as executive chairman of the combined company while working as chief operating officer of the new midstream asset.
Papa's Footsteps
In making the move, Hackett is following in the footsteps of another successful oil exploration chief who pursued a similar path less than two years earlier. Mark Papa, who built Enron Corp. castoff EOG Resources Inc. into the fourth-biggest U.S. driller, retired from that company in 2013. He then returned to the industry to create Centennial Resource Development Inc. using the funding system Hackett is now using.
"It's exciting as heck for me, even though that's not what I envisioned doing," Hackett said during the interview. "It was not my dream like it was Mark's when he came back to the industry to actually run a company."
Hackett began leading energy companies in the 1990s and during a nearly decade-long tenure at Anadarko built the explorer into one of the biggest independent U.S. crude producers. After retiring from Anadarko in 2013, he attended Harvard's 200-year-old divinity school in Cambridge, Massachusetts, while sitting out the oil-market crash that began the following year. One of his main goals was to come out of Harvard and do what he's doing now -- teach. He never intended to go back to the oil industry.
Riverstone Connection
But it was Papa's success with Centennial Resource Development that led Riverstone co-founders Pierre Lapeyre and David Leuschen to ask Hackett to try to do the same thing, according to Hackett. So, after graduating from the divinity school in May 2016, Hackett emerged early this year to also lead Silver Run.
He had no shortage of companies to pick from, having cold-called about 7 to 10 and having another 20 approach him for possible acquisition, he said.
Similar to Papa's acquired company, which he bought from NGP Energy Capital Management LLC, Hackett found in Alta Mesa a closely-held partner that was looking to go public, according to people familiar with the matter.
Alta Mesa, formed three decades ago, now has drilling rights to 120,000 acres in the Stack play, a basin where Marathon Oil Corp. and Devon Energy Corp. have made acquisitions in the the past two years.
With the purchase, Hackett is avoiding the priciest U.S. shale region in West Texas and New Mexico and targeting undrilled fields in Oklahoma, where the costs to acquire drilling rights haven't been driven sky high. Some of the areas Hackett plans to drill can turn a profit with crude as low as $25 a barrel.
50,000 Barrels
Kingfisher, meanwhile, has 50,000 barrels of crude storage capacity and 60 million cubic feet of gas processing capacity. Alta Mesa expects that it could spin the midstream assets out in an initial public offering by early 2019, Hackett said.
Papa said earlier this year he knew of other former CEOs, including Hackett, who were being asked by investors to try to do the same thing he did. But he observed that finding success a second time around was harder than he thought it would be.
Such an investment is "really based on a lot of faith," Papa explained. "You basically just go out and raise the money and you tell investors, 'Trust me, I'm an experienced manager. You give me the money, I'll find a good E&P asset, and if I can't do it within two years, you'll get your money back.'"
Before it's here, it's on the Bloomberg Terminal.
LEARN MORE