Philippine Economy Will Continue Strong Growth: Finance Minister
By and
Finance secretary sees economy reaching 7.5% growth in 2019

Rising imports 'normal' for economy growing at fast pace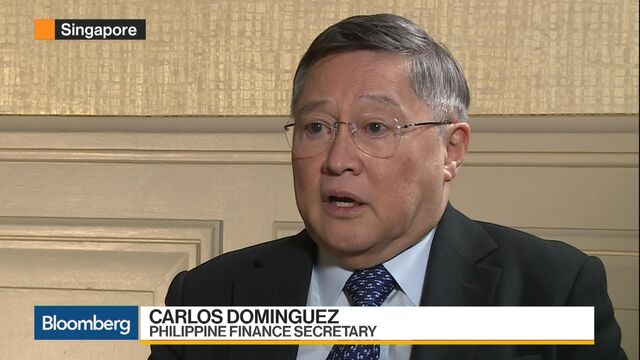 Start your day with what's moving markets in Asia. Sign up here to receive our newsletter.
Philippine Finance Secretary Carlos Dominguez said the economy is set to continue growing strongly, with a slump in the currency likely to be temporary.
Spending on infrastructure projects may help to spur economic growth to the top end of the government's target of 6.5 percent to 7.5 percent by 2019, Dominguez said in an interview with Bloomberg TV's Haslinda Amin in Singapore. The peso's slump this year is mainly due to a deteriorating trade outlook because of rising imports of capital goods, which is "normal for a country that is growing very fast," he said.
"We're in a sweet spot," Dominguez said. "We have low inflation, we have low interest rates, we have a very young, educated, eager population."
Given President Rodrigo Duterte's high approval ratings, "we are determined to use all the advantages we have to push forward reforms that will allow our economy to break out from the past low growth pattern," he said.
The economy grew 6.5 percent in the second quarter from a year earlier, buoyed by a pick-up in government and consumer spending, the statistics agency said on Thursday. Growth has exceeded 6 percent for eight consecutive quarters.
Duterte's ambitious infrastructure program will see the government spend as much as $170 billion over the next five years on roads, railways and other projects. Dominguez said once the program gets underway, the government will be spending 7.5 percent of GDP on infrastructure, up from 2.5 percent.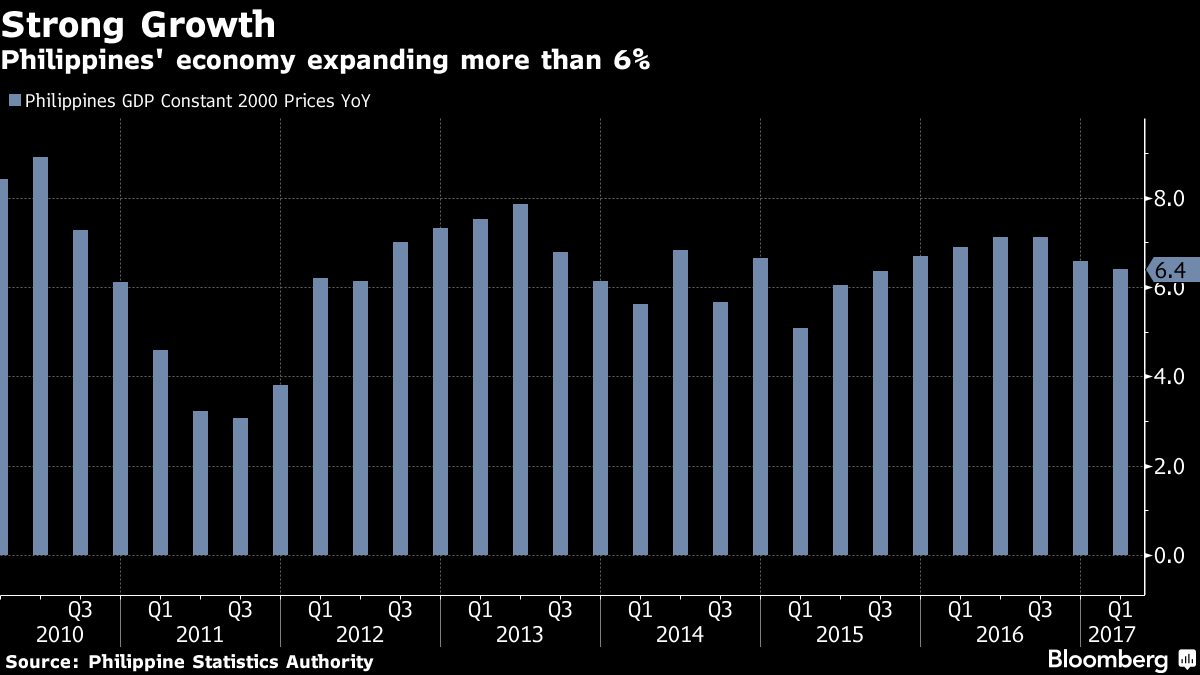 Top officials from the Philippines met with investors in Singapore on Tuesday to outline their growth strategy and allay concerns about a weakening currency. The peso is down 3.2 percent against the dollar this year, the worst of Asian currencies.
The Philippines is set to post its first current-account deficit in 15 years as imports climb, a factor that's contributing to the currency weakness. Imports of capital goods, such as electrical equipment and machinery, are "investment-led purchases and not consumption-led, so this is going to add capacity to our economy," Dominguez said.
The finance chief said he doesn't expect an insurgency that the government is fighting in Marawi, in the south of the country, to damage investor sentiment and undermine state finances. Duterte has imposed martial law in the region and is seeking additional funds to help rebuild the area.
Before it's here, it's on the Bloomberg Terminal.
LEARN MORE