China's Blue Skies Target May Make for Winter Gas Crunch
Bloomberg News
Natural gas demand jumped 15% in 1H amid policies to boost use

Government pushing cleaner-burning fuel to replace coal, oil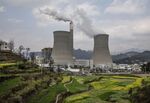 Chinese President Xi Jinping's government has beaten expectations in its drive to help clear the nation's notoriously smoggy skies by burning less coal and oil in favor of cleaner natural gas.
Now that success may be too much, too soon.
Gas consumption has risen 15 percent in the first half of the year, including a 27 percent jump in June, as industrial customers shift toward the fuel and as distributors add more residential users. That surge during the traditionally low-demand part of the year raises the possibility that the country may find itself short of gas when winter hits, according analysts at Jefferies Group LLC and SCI International.

"China could be setting itself up for a nasty winter gas shortage," Laban Yu, a Hong Kong-based analyst at Jefferies, said in a research note last week. "We believe gas prices will have to increase, especially in winter months, to balance supply and China's regulation-induced demand surge."
China's drive to use more natural gas and renewables has seen coal's share of the energy mix drop to just below 60 percent during the first half of the year, according to the National Energy Administration. It accounted for 64 percent in 2015, and the government is aiming for 58 percent by 2020.
China's natural gas demand will rise to 620 billion cubic meters a year by 2030, China National Petroleum Corp. said in a report Wednesday. The country used 206 billion cubic meters last year, according to the National Development and Reform Commission.
Natural gas use tends to fall into two categories: recurring demand from activities like power generation and industrial plants, and seasonal demand for powering air conditioners in summer and heating homes in winter. For China, which has hundreds of millions of people living in colder northern cities like Beijing, Tianjin and Harbin, consumption peaks in the winter.
But demand this year is booming in the middle of summer. Imports in July jumped by 55 percent over the previous year and are up by almost 21 percent for the entire year, according to the General Administration of Customs. That's on top of a 8.8 percent increase in domestic output during the first seven months of the year, according to the National Bureau of Statistics.
'Big' Increase
In 2015 and 2016, seasonal demand meant December consumption was double that during July. China Petrochemical Corp., one of the country's leading liquefied natural gas importers and known as Sinopec Group, is expecting "big" year-on-year increases in the winter and spring, Shanghai Securities News reported last week, citing comments from the company after its mid-year work conference.
The government will probably push energy companies to ramp up imports and production and ensure new terminals are online to meet winter demand, said Liu Guangbin, a gas analyst at Shandong-based SCI International. Energy firms may use the surge in buying to bolster requests to the government to raise regulated domestic prices, he said.
"I expect the gas supply shortage this winter to be more severe than the situation in the previous two years due to sharp increase in demand from industrial users amid the government's coal-to-gas switching policy," he said.
Neither the National Development and Reform Commission, the nation's top economic planner, nor the NEA responded to faxed requests for comment.
More LNG
The growing global LNG market will help the country meet any surge in demand this winter, said Liu Ming Hui, executive chairman of China Gas Holdings Ltd., which distributes natural gas to homes and businesses. Other distributors, such as ENN Energy Holdings Ltd. and Guanghui Energy Co., have started importing LNG themselves to supplement supplies they typically bought from China's big state-owned energy firms.
LNG has made up almost 51 percent of China's natural gas import supply during the first half of the year, up from 48 percent last year and 44 percent in 2015, according to Bloomberg calculations using data from the General Administration of Customs.
China's gas prices are set by regulators, and they're among the highest in the world by a major gas consumer. The main city-gate price in June was 1,876.1 yuan per thousand cubic meters, which equated to about $7.73 per million British thermal units. Natural gas in the U.K. averaged $4.63 in June. In the U.S., prices averaged $2.994 in June and futures traded at $2.885 as of 10:32 a.m. London time.
LNG Surge
A surge in LNG production, led by new facilities in Australia, boosted global output to a record in July, according to JP Morgan Chase & Co. New plants will ensure there's ample supply for Chinese buyers, even as they are expected to increase imports this winter by 30 percent from last year, said Zhi Xin Chong, a Singapore-based analyst with Wood Mackenzie Ltd. Prices for spot LNG will probably only rise to the $7-to-$8 per million British thermal units level this year, compared to a peak near $10 last year, he said.
"We probably won't see the same sort of spike like last year," he said. "The new supply coming on to the market is already beginning to affect prices."
Spot prices in North Asia were at $6.187 per million Btu as of Monday, according to assessments by Singapore Exchange Ltd. Prices were as high as $9.583 in January.
— With assistance by Aibing Guo, Jing Yang, and Dan Murtaugh
Before it's here, it's on the Bloomberg Terminal.
LEARN MORE