Carney's U.K. Wage Puzzle Goes on in Job-Rich, Pay-Poor Economy
By and
U.K. unemployment rate is at the lowest in more than 40 years

Low productivity, Brexit uncertainty may be weight on earnings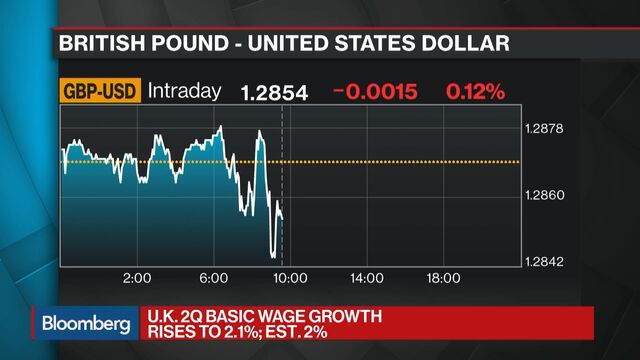 The lowest unemployment in four decades would normally be unequivocally welcome news, but it's leaving Mark Carney searching for answers as to why wages aren't picking up more.
At 4.4 percent, the jobless rate is the lowest since 1975, when Jaws was first in cinemas and Queen released Bohemian Rhapsody. It's also below the level the Bank of England governor says should start fanning substantial wage gains. While earnings picked up more than forecast in the second quarter, they still lag inflation and are less than half the pace seen in the decade before the financial crisis.

"Traditional economics would suggest we should be witnessing wage pressure, but there are no signs of material pay increases coming," said Philip Shaw, an economist at Investec. 
That has implications for the economy and monetary policy, with the squeeze on workers' pockets acting as a drag on spending and overall momentum. Productivity also fell in the second quarter, according to the data published Wednesday by the Office for National Statistics.
Low productivity is one of many reasons cited by economists and policy makers explaining the failure of earnings to pick up, along with more flexible working hours, the so-called gig economy, and uncertainty over the U.K.'s exit of the European Union. Carney said this month that firms may be less willing to give bigger pay rises since it's not yet clear how their access to EU markets will work as Brexit unfolds.
Fed Questions
The debate isn't confined to the U.K. -- economists at the Federal Reserve are devoting more energy to understanding the equilibrium unemployment rate, known as u-star. At the BOE, policy makers including Chief Economist Andy Haldane have suggested that structural changes in the labor market are likely weighing on wages, as workers take on more part-time employment or zero-hours contracts.
Britons may also currently be less likely to switch jobs, according to former policy maker Kristin Forbes, a trend seen since the Brexit referendum which has a damping effect on wage growth. Research published Tuesday by the Resolution Foundation, a think tank, also showed that workers are moving less between regions and employers.
In addition, employees could be less likely to push for wage increases due to worries over job security since the financial crisis. In an analysis of the labor market published this year, the BOE noted that it's hard to know how long such "scarring effects" could persist. The number of days lost to labor disputes in June was the lowest since 2008.
But the nudge up in wage growth may nevertheless provide some reassurance to the two policy makers who voted for an increase in the BOE's benchmark rate this month -- and observers wondering whether the Phillips curve relationship is still alive.
Michael Saunders, who along with Ian McCafferty wants to lift the rate off its record-low level of 0.25 percent, said last week that there is now less economic slack to use up before wages and inflation push higher.
The labor-market figures raise expectations of a rate hike because they "point to solid growth in demand," according to Kallum Pickering, an economist at Berenberg in London. "There is every chance the equilibrium unemployment rate could be well below 4 percent."
— With assistance by Lucy Meakin
Before it's here, it's on the Bloomberg Terminal.
LEARN MORE