Bull Market Likely to Be Longest on Record, Oppenheimer Says
By
U.S. equity rally should last for ninth year: OFI Global CIO

Even valuations that look expensive are still cheap vs bonds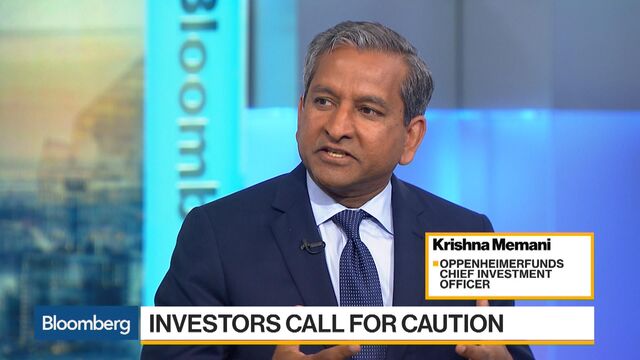 Bull markets don't die of old age and with neither a major policy mistake nor a significant economic disruption on the horizon, there's life in the current cycle yet.
That's the view of Krishna Memani, chief investment officer at OppenheimerFunds Inc. in a recent paper, which details at least 15 reasons the current U.S. equity bull market will persist for a ninth year. Events of the past year including make-or-break elections for the euro have washed over financial markets, suggesting policy, not politics, would be the rally's undoing.
Memani sees support for the stock market from global economic growth, an end to the deterioration in global trade and no plans for significant monetary policy tightening from either the Federal Reserve or the European Central Bank.
Other reasons for the continuing bull run include:
Stocks still cheap compared to bonds
Despite share valuations looking expensive relative to history, they are still cheap in relation to bonds, Oppenheimer says. The earnings yield of the S&P 500 remain over 2 percentage points greater than the yield on U.S. Treasuries.

Past stock returns not 'euphoric'
Bull markets usually end after a "prolonged, pronounced" period of long-term outperformance to bonds, according to the paper. There has been no signs of investor euphoria about equities, as recent long-term relative returns are not excessive.

High yield bond spreads historically tight
Since 1994, the yield difference between bonds of speculative-grade borrowers and government debt has been narrower than average more than half the time while indicators of corporate health remain sound, according to Oppenheimer.

So what are the warning signs?
While optimistic this cycle will ultimately be the longest on record, after the 1990-2000 dot-com boom, Oppenheimer says it's monitoring four 'telltale' signs which could herald an end:
A meaningful pickup in U.S. and European inflation
A widening of high-yield credit spreads
A declining 10-year U.S. Treasury yield
A strengthening U.S. dollar versus emerging market currencies
Before it's here, it's on the Bloomberg Terminal.
LEARN MORE