This Coding School Wants Graduates to Share Their Income
A for-profit coding school hikes tuition but offers a new way to pay.
By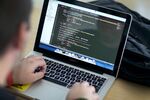 College and career training schools are essentially a gamble. Students pay up to hundreds of thousands of dollars for a product they hope will reap dividends years later. If that investment doesn't pan out, the college still keeps the fees. A Manhattan-based, for-profit coding school says it has developed a fairer way.  
New York Code and Design Academy is one of around 100 so-called coding "boot camps" that teach beginners how to write computer code in as little as 12 weeks. On Tuesday, the school announced that graduates of its Salt Lake City and Philadelphia campuses who don't land well-paying jobs after graduation won't have to repay the school for their education, provided they didn't pay up front. Grads who get good jobs would agree to devote 8 percent of their gross monthly earnings over the following four years to the school, until they hit the tuition amount.
The financing option comes as the school hikes full-time tuition at those two campuses by 50 percent, to $15,000. Only graduates of these programs who make more than $40,000 annually—and don't pay up front—could commit to the income-sharing plan, school executives said. The school hopes to expand this option to its other locations once it receives government approval. For now, the school's two other campuses that offer full-time instruction—in Manhattan and Washington—have left tuition at $10,000.
To backers, the arrangement, known as an income share agreement, or ISA, represents a solution to mounting concerns about the nation's $1.5 trillion student debt tab and whether students and taxpayers are getting value that matches rising tuition bills.
Purdue University offers ISAs, but it's one of a very small number of schools that has embraced the concept. Critics charge that ISAs, by their very nature, do not offer transparent pricing, making it difficult for students to estimate how much they'll end up repaying. In most cases, high-earning graduates pay more for their education than those who either fail to secure a job or end up in low-paying occupations, an arrangement that amounts to richer graduates subsidizing poorer ones.
But New York Code and Design Academy's take on the ISA is slightly different from that of other schools. Since it caps repayment at the $15,000 tuition amount, the school will eat the cost of educating a student who doesn't land a well-paying job afterwards. Effectively, the school is making a bet that it can get nearly all its students placed in good jobs.
Colleges that offer ISAs "send a better message to students, which is, 'We're aligned,'" said Tonio DeSorrento, chief executive officer of Vemo Education, a financial company that's been pushing ISAs since last year and has partnered with New York Code. Jeremy Snepar, CEO of the New York coding school, which he founded in 2012, said the arrangement ensures his school has an incentive to help its graduates snag relatively well-paying jobs.
Strayer Education Inc., which bought New York Code and Design Academy last year, hopes that ISAs will entice more students to enroll, helping the coding school reach profitability sooner than the company expects, said Karl McDonnell, Strayer chief executive. Hiking tuition at the two locations that offer ISAs should lead to more teachers and more specialized instruction, he added.
Strayer's move to ISAs amounts to a bet on the nation's demand for coding and web development skills. There were more than 148,000 employed web developers in the U.S. in 2014, according to the Bureau of Labor Statistics, and the typical web developer made about $66,000 last year. (McDonnell speculated that a "relatively small percentage" of his coding school's grads make less than $40,000 annually.) The feds forecast an additional 40,000 web developer jobs by 2024.
But the bet comes at a time when the for-profit coding school industry is undergoing a painful shakeout. About eight schools have either shut down this year or announced plans to close, according to Course Report, which tracks coding schools, including two that had substantial backing from traditional for-profit education giants: Iron Yard, majority-owned by Apollo Education Group Inc., the parent company of University of Phoenix, and Kaplan Inc.-owned Dev Bootcamp.
By offering prospective students the option of taking what essentially is a four-year, interest-free loan—while raising tuition by 50 percent—Strayer's New York Code and Design Academy is probably hoping that prospective students won't mind the tuition hike because they'll get to pay if off over time, with some protection against the possibility of an unmanageable debt.
"If this is a nine-inning game, I don't think we're even in the first third of the first inning," McDonnell said.
For more on coding boot camps, check out the Decrypted  podcast:
Quotes from this Article
Before it's here, it's on the Bloomberg Terminal.
LEARN MORE