Merkel Jeered on the Campaign Trail as Refugee Tensions Linger
By
Chancellor faced anti-immigration protesters near Frankfurt

AfD rises to third-strongest party in INSA poll on Tuesday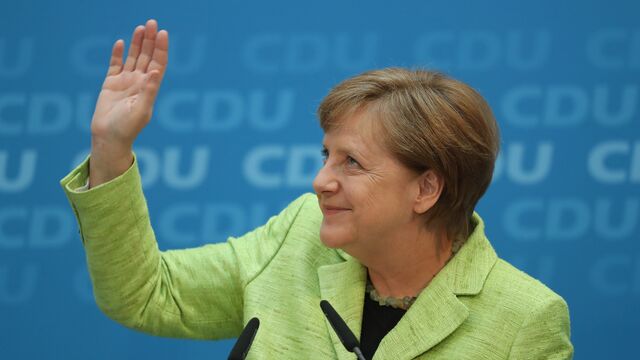 Follow @bpolitics for all the latest news, and sign up for our daily Balance of Power newsletter.
Insisting that "people are doing better'' than they were four years ago, Angela Merkel made her re-election pitch to a crowd of some 3,000 in a medieval town square in western Germany, a stump speech marred by a clutch of jeering anti-immigration protesters.
The chancellor was speaking late Monday at an election rally of her Christian Democratic Union in Gelnhausen, a town of just over 20,000 about 50 kilometers (31 miles) east of Frankfurt. While most were placard-waving CDU supporters, several dozen supporters of the nationalist Alternative for Germany party, or AfD, blew whistles and shouted at Merkel.
The German leader didn't acknowledge the protests in a 32-minute speech that covered the campaign themes of the diesel scandal, her CDU's hewing to a balanced budget and pledges to increase domestic security. Yet the presence of loud demonstrators, a relative rarity during her rallies, hinted at the lingering tensions that have dogged Merkel since the refugee crisis exploded two years ago -- and the residual anger that could inject uncertainty into the Sept. 24 election outcome.
Merkel's Election Challenges This Time Around: QuickTake Q&A
"I won't vote for Merkel," Alexander, a 31-year-old machinist who said he was among those who shouted "Merkel out" during the speech, said after the rally. The town native, who gave only his first name, singled out the chancellor's harsh stance on Russian sanctions for criticism, saying it would lead to "destabilization." He said he wasn't "with the AfD," but pro-Russia sentiment is something he shares with the party.
AfD's Rise
While the AfD isn't about to win the election, polls suggest a rebound in support to third place after a bout of party infighting at the beginning of the year. There's also a possibility that polls are underestimating the party's backing. Either way, it's more than enough for the AfD to clear the 5 percent threshold and enter the lower house of parliament for the first time, upsetting potential party alliances and further complicating coalition-building.
Merkel's CDU-led bloc held at 37 percent compared to 25 percent for the Social Democrats in an INSA poll published by Bild newspaper on Tuesday. The AfD rose to 10 percent support nationwide, followed by the anti-capitalist Left party and the pro-business Free Democrats, both with 9 percent, and the Greens on 7 percent.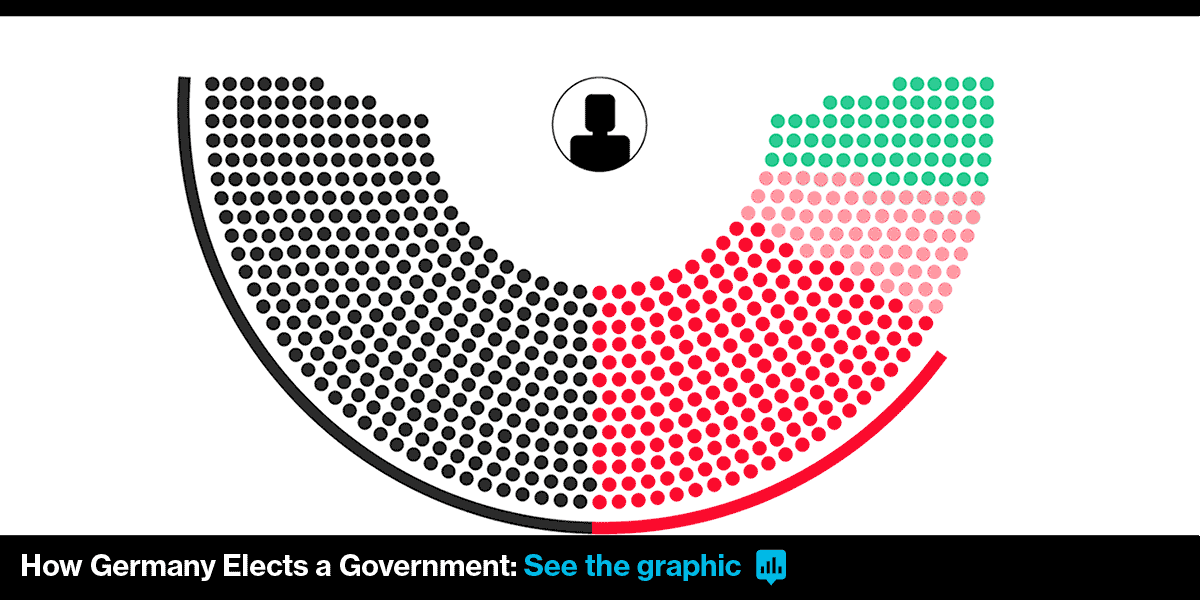 Germany's Election Campaign Enters Full Swing: How It Works
With all polls showing Merkel with a towering lead over her Social Democratic challenger, Martin Schulz, the chancellor is taking no chances with a 50-stop tour across the country over the next six weeks. She makes two appearances on the North Sea coast later on Tuesday, in Cuxhaven and in the port city of Bremen. Schulz is meanwhile due to address the topic of refugees and integration in a speech in Berlin the same day.
The AfD protesters were the most vocal at the Monday night rally, honing a familiar message taking Merkel to task for the uncontrolled influx of more than a million migrants since 2015, a crisis that consumed her chancellorship for over a year. One demonstrator held up a sign urging Germans to "defend yourself -- free yourself from this Merkel tyranny."
Parliamentary Investigation
Frauke Petry, the AfD co-leader who has decried the influx of refugees into the country, told broadcaster ARD that the party plans to launch an investigative committee to examine whether Merkel violated the law with her migration policy.
"We are of the opinion that this should be examined legally," Petry said Sunday.
Merkel addressed the refugee crisis in her speech, thanking volunteers for assisting in sheltering refugees and listing measures, including an accord with Turkey and deportation of those who don't qualify for asylum, that have addressed the turmoil.
"Of course a year like 2015 can't repeat itself every year," Merkel said.
Still, Merkel has her supporters. And the economy's solid performance is giving her a helping hand.
Michael Stini, a 39-year-old business manager in Gelnhausen, said he was leaning toward voting for Merkel, saying that he views her as a force of stability.
"You know what you're getting," Stini said after the speech. "I think it makes sense to vote for her."
Even Alexander, the machinist, said he was resigned to a Merkel victory.
"She'll be elected again," he said. "It's no mystery."
— With assistance by Rainer Buergin
Before it's here, it's on the Bloomberg Terminal.
LEARN MORE