Trump Rips CEOs Quitting Panels as Defectors' List Grows
By and
President speaks on infrastructure, violence in Virginia

AFL-CIO president quits, citing Trump's remarks on Tuesday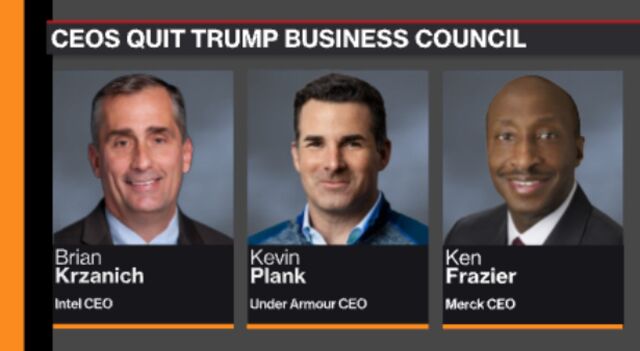 Follow @bpolitics for all the latest news, and sign up for our daily Balance of Power newsletter.
President Donald Trump said the CEOs quitting his advisory council aren't taking their jobs seriously, again taking aim at some of America's most visible business leaders as the fallout from a weekend of racially charged violence in Virginia mounts.
"They're not taking their job seriously as it pertains to this country," the president said of the executives at a press conference at Trump Tower in New York Tuesday afternoon. "If you look at some of those people that you're talking about, they're outside of the country, they're having a lot of their product made outside, if you look at Merck as an example."
The president also doubled down on his earlier statement that both white supremacists who marched in Charlottesville to protest the removal a statue of Confederate General Robert E. Lee and counter-demonstrators were to blame for the mayhem that included the death of one woman. Trump said he saw "blame on both sides."

A 20-year-old Ohio man, James Alex Fields Jr., who was among those protesting the statue's removal, has been arrested and charged with murder in the death of the woman, 32-year-old Heather Heyer.
On Monday, Merck & Co.'s Kenneth Frazier said he was quitting the president's manufacturing council as a matter of personal conscience after Trump failed to strongly condemn the white supremacist-led protests. Under Armour Inc.'s Kevin Plank and Intel Corp.'s Brian Krzanich said later in the day on Monday that they were also stepping down. Scott Paul, the president of the Alliance for American Manufacturing, said on Tuesday that he was quitting the group, as it was "the right thing for me to do."
Merck declined to comment on Trump's remarks at the press conference. The company says on its website that it employs about 25,000 people in the U.S.
Matter of Conscience
Late Tuesday, AFL-CIO President Richard Trumka said the union group was leaving Trump's manufacturing council. "We cannot sit on a council for a president who tolerates bigotry and domestic terrorism," Trumka said in a statement posted on Twitter. "It's clear that President Trump's Manufacturing Council was never an effective means for delivering real policy that lifts working families and his remarks today were the last straw."
While none of the CEOs mentioned the president in the resignations from the council, Frazier, one of the country's most-prominent black chief executive officers, quit as Trump was being assailed for failing to quickly condemn the white supremacists. Frazier said he was acting on a "matter of personal conscience."
Trump shot back on Twitter Tuesday morning, saying, "For every CEO that drops out of the Manufacturing Council, I have many to take their place. Grandstanders should not have gone on. JOBS!" Earlier, Trump tweeted an all-caps jab at Frazier about costly prescription drugs and another griping that Merck is a leader in high prices and in sending jobs overseas.
Only last month, Trump had praised Merck for bringing more jobs to the U.S.
At a White House event July 20 with CEOs that included Frazier, Trump lauded the Merck chief as one of "the great, great leaders of business in this country" and praised his company's role in job creation.
In a telephone interview, Leslie Brun, the lead director of Merck, defended Frazier's decision and criticized the president for personalizing the disagreement.
"I was astounded though not surprised by the reaction of our president in casting personal stones immediately," said Brun. "It is sad that the level of discourse and leadership has fallen to personal name calling by the leader of the free world. It's not exactly what you'd expect from a person in that position."
Wal-Mart Stores Inc. CEO Doug McMillon said in a statement before the news conference that Trump "missed a critical opportunity to help bring our country together by unequivocally rejecting the appalling actions of white supremacists," though he said that he will continue to serve on the panel.
Plank and Krzanich, who are white, referred to the charged atmosphere in the U.S. Plank said he was quitting because his athletic-wear company "engages in innovation and sports, not politics," and Krzanich, who leads the world's largest semiconductor maker, cited a "divided political climate" and declared, "The current environment must change, or else our nation will become a shadow of what it once was and what it still can and should be."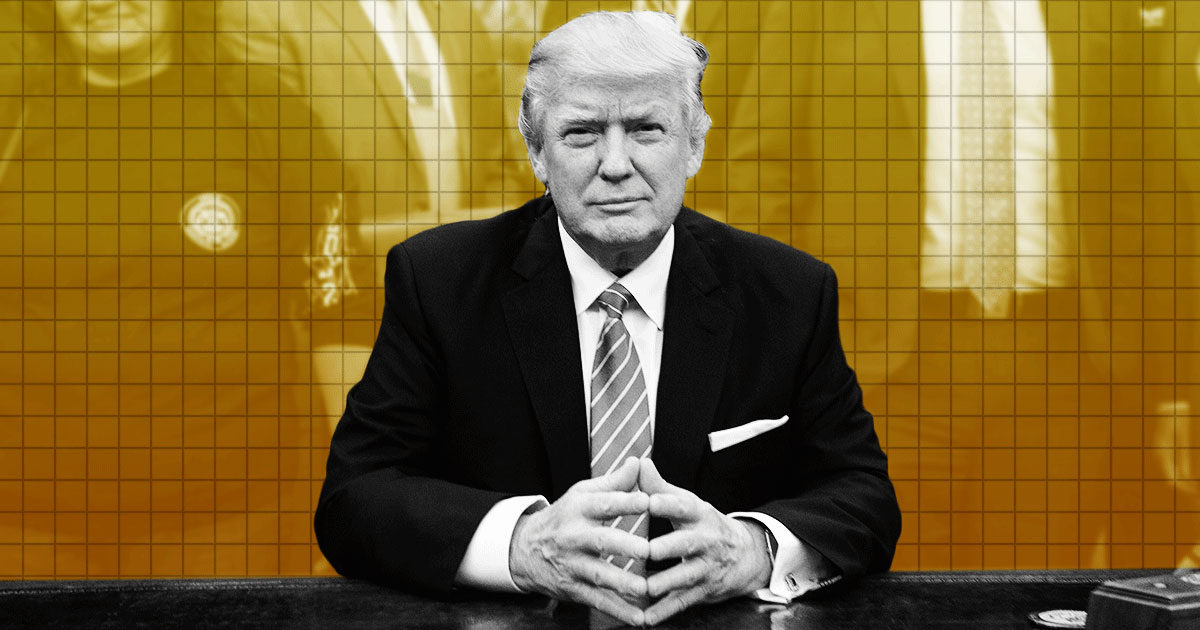 Frazier and his compatriots joined the ranks of Elon Musk of Tesla Inc., Bob Iger of Walt Disney Co. and Travis Kalanick of Uber Technologies Inc. -- executives who walked away from business panels Trump touted, taking the unusual steps of publicly distancing themselves from a sitting president.
Twitter Pleas
"The value of the advisory council goes down when respected members leave over issues of principle," said James Post, professor of management emeritus for the Questrom School of Business at Boston University. "Whereas the president could have claimed to learn from the council, now it seems that he only listens when they agree with his opinion."

Plank, who issued his resignation Monday evening, came under fire earlier this year from Under Armour brand ambassadors, including Golden State Warriors point guard Stephen Curry, for comments the CEO made about Trump being a pro-business asset in the White House. What's more, some of the white supremacists in Charlottesville were photographed in Under Armour apparel, a fact noted in posts on the company's Twitter page Monday, which was crowded with calls for a product boycott if Plank didn't resign from the council.
The Twitter account of Intel's Krzanich was peppered Monday by pleas for him to quit the White House group after he posted that "there should be no hesitation in condemning hate speech or white supremacy by name."
Whatever their motivations for exiting, any CEO joining the advisory council should've known what to expect because there was little mystery about Trump's policy positions, said Nick Donatiello, a lecturer on governance topics at the Stanford Graduate School of Business. "You can say 'Gee, couldn't some of this have been anticipated?"'
The CEOs remaining on the advisory group -- including those from Dow Chemical Co., General Motors Co. and General Electric Co. -- all have their own "risk calculations" to make, said John Rice, CEO of Management Leadership for Tomorrow, a nonprofit group that helps companies, including Goldman Sachs Group Inc. and Alphabet Inc.'s Google, find minority talent. And "they know they will get called out."
— With assistance by Jordyn Holman, Cynthia Koons, Josh Eidelson, and Jennifer Kaplan
Before it's here, it's on the Bloomberg Terminal.
LEARN MORE