HSBC Hires Goldman Veterans for Asia Equities
By
Chandler said to become head of HSBC equity sales for region

Zoll, Jeyarajah said to be about to join in equities roles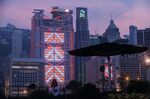 HSBC Holdings Plc has hired three executives from Goldman Sachs Group Inc. as it seeks to bolster its equities business in the Asia-Pacific region, people familiar with the matter said.
Michael Chandler, formerly Goldman Sachs's co-head of Asia-Pacific research sales, has joined HSBC as head of equity sales for the region, the people said, asking not to be named as they are not authorized to discuss personnel matters. Martin Zoll, an equity derivatives specialist at Goldman Sachs, will become a global head of corporate equity derivatives and equity linked products, one of the people said. Chito Jeyarajah has been hired to help run HSBC's equity capital markets business in the region, the people said.
HSBC is bolstering its equities presence in the region after it became the first foreign bank to win permission for a majority-owned securities joint venture in China, a structure its competitors have unsuccessfully lobbied to secure for several years. Other banks have also been trimming jobs and cutting expenses in regional equities in recent years, at a time of tightening commissions and lackluster trading volumes.
Additional pressure has been created ahead of the January implementation of the MiFID II regulations in the European Union, which will force banks to charge separately for their equity research.
Lauren Fraser, a Hong Kong-based representative for HSBC, declined to comment, as did Connie Ling, a Hong Kong-based spokeswoman at Goldman Sachs.
Zoll will start around the end of October and will focus on broadening HSBC's equity derivatives and equity-linked offerings, one of the people said.
China Venture
HSBC is reshaping its investment-banking unit after hiring Matthew Westerman from Goldman Sachs last year to run the business. Earlier this year, it appointed Hossein Zaimi as Hong Kong-based global head of equities, and in June, it won approval to invest $135 million for 51 percent stake in a China securities joint venture with Qianhai Financial Holdings Co., based in southern China.
The various trading links between Hong Kong and China are also expected to attract more foreign investment in mainland markets. China started a trading link between Hong Kong and Shenzhen in December, more than two years after the launch of the Shanghai-Hong Kong connect in November 2014.
The country has recently intensified efforts to draw foreign investors to its onshore debt market, kick-starting a trading link with Hong Kong in July and providing greater access to onshore currency derivatives for bond hedging.
Jeyarajah's planned move to HSBC was reported earlier by IFR Asia.
Before it's here, it's on the Bloomberg Terminal.
LEARN MORE