Hertz's Cash Stockpile Can't Quell All Queries About Liquidity
By and
Spotlight falls on canceled bond redemption, credit-line draw

Auto renter says it's waiting to see results of peak season
Hertz Global Holdings Inc. says it's got all the cash it needs. Some analysts and investors are asking why the company is acting like it doesn't.
The question lingers even after Hertz delivered a second-quarter report that sent the stock soaring more than 30 percent in three days last week. Analysts were puzzled by the car renter's decision to abruptly cancel a bond redemption and draw down its revolving credit line. Executives have said there's no shortage of liquidity; they're just waiting to see how their crucial high season is going before deciding how to deploy it.
"They'll say they were just being prudent, but historically when a company draws on the revolver, it signifies issues," said John McClain, a high-yield portfolio manager at Diamond Hill Investment Group, which manages $21.1 billion. "We didn't get a lot of clarity from management other than, 'Well, we don't need it,'" McClain said. "Well, then, why'd you draw it?"
Read BI's Report: Reality Check Bounces at Hertz
There certainly has been no shortage of demands on the cash, including an overhaul of Hertz's aging fleet, upgrading information systems and looming bond maturities. The rental-car company burned through $5.8 billion in 2017's first half, using the traditional method of calculating free cash flow, as new Chief Executive Officer Kathy Marinello tries to engineer a turnaround that she said may take as long as six quarters.
That's making liquidity a pressing concern, wrote analysts including Dan Levy at Barclays, which helped arrange Hertz's first-lien term loan. The auto renter is junk-rated, and Hertz posted net losses in five of the last six quarters totaling more than $850 million.

Hertz and some analysts typically use a calculation for cash flow that filters out the impact of seasonal changes in fleet size, turnover in equipment and asset-backed security financing for vehicles. Chief Financial Officer Tom Kennedy pegged the first half's adjusted cash burn closer to $566 million during the Aug. 8 midyear earnings call. Even by that gauge, the figure was a "clear negative" and it's "unclear what drove this," the Barclays analysts wrote.
Hertz expects positive cash flow in the second half, which will boost liquidity from its current seasonal low, spokeswoman Karen Drake said by email. Knowing the actual results for the early part of this quarter will help Hertz determine how to best deploy funds across its entire capital structure, company officials told investors.
The financial drama started with Hertz's July 28 announcement that it was rescinding plans to redeem as much as $450 million of 2019 notes -- the stated goal in May when new notes due in 2022 were sold to finance the deal. Hertz didn't publicly elaborate on the reasons until the midyear call, when Marinello said the redemption is still being considered with "other refinancing options."
Proceeds from the sale are still reserved to pay down debt, the company said. Hertz finished the second quarter with about $1.14 billion in corporate liquidity and "will revisit the amount of cash we expect to carry on our balance sheet as we move through the third quarter," Kennedy said during the call.
The cash hoard isn't normal, but "we were being prudent going to the peak earning season," Kennedy said. "The company wanted to observe pricing trends both at rental lots and at the auctions where it sells vehicles off to the used market, he said.
Cash Needs
Demands for cash could come from the $11.2 billion of asset-backed securities that Hertz issued to buy cars and SUVs. These bonds are secured by the vehicles, and if the resale value of those vehicles falls too far, Hertz must shore up the notes with cash or more collateral. Kennedy said on the call that such contributions won't happen this quarter.
Then there's the covenant in the first-lien credit agreement, which compels Hertz to keep leverage below 3.25 times, and 3.0 by December. Breaking it could trigger demands for immediate repayment. The ratio now stands at 2.56.
"When and what are they going to apply those proceeds to?" Xtract Research analyst Valerie Potenza said in an interview. "Will any of those reduce the term loans or pay back and downsize the revolver?" she asked. "That would give them more breathing room under that first-lien leverage covenant."

Analysts will be watching third-quarter earnings adjusted for interest, taxes, depreciation and amortization to see what happens to the ratio. The quarter contributes as much as 60 percent of annual adjusted Ebitda, according to Kennedy. Moody's Investors Service has said it might cut its B2 rating if Ebitda comes in below $300 million, or $29 million less than year-earlier levels.
"The early signs are encouraging that the third-quarter operating trends will show an improvement from the first half of the year results," said Drake, the company spokeswoman, adding that Hertz is confident it will meet the covenant's terms.
Skepticism is reflected in the cost of insuring Hertz's debt against default, which more than quadrupled in six months, according to a report this month by Bloomberg Intelligence analyst Joel Levington.
Watch Next: Avis Earnings Miss Raises Concerns for Hertz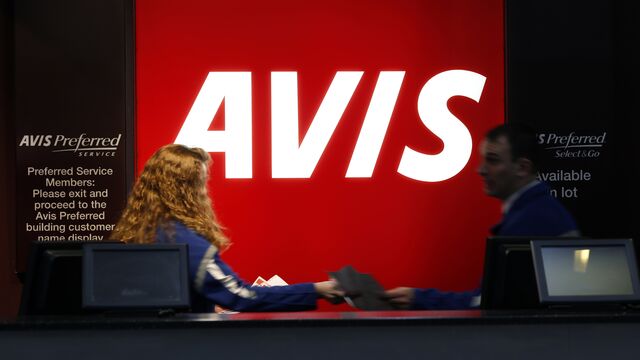 "Hertz's lack of clarity around its drawdown of its revolving credit facility, the timing of its 8-K filing to announce a plan to rescind a redemption of its 2019 notes and a lack of any meaningful outlook smack at management's credibility," Levington wrote. "That may test creditors' patience should Hertz seek additional financing or need a covenant amendment."
Hertz's $5.6 billion of non-vehicle debt typically yields less than 9 percent at current prices and often much less. Investors aren't getting paid enough for the risk tied to Hertz's cash holdings, said McClain, whose firm doesn't own Hertz debt and is a substantial holder of its rival, Avis Budget Group Inc.
The company probably can comply with the first-lien covenant even if earnings are weak, but that doesn't mean Hertz's long-term problems are solved, McClain said.
"I bet they'll negotiate with banks, probably reduce their revolver by another couple hundred million, use proceeds from the second-lien debt to pay that, and use the revolver to kick the can down the road," McClain said. "But then that all sets them up again for facing a 2019 pressing maturity."
— With assistance by Claire Boston
Before it's here, it's on the Bloomberg Terminal.
LEARN MORE