Consumer Spending Picks Up With Jump in Retail Sales
By
Receipts at retailers in July register biggest advance of year

Economists raise their 3Q consumption tracking estimates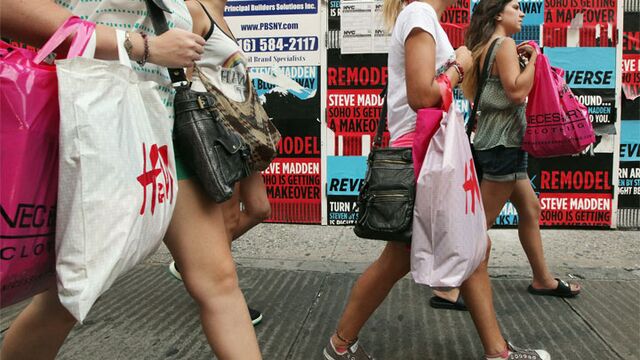 American consumers flexed some muscle in July. Shoppers splurged at Internet retailers, department stores, restaurants and auto dealerships, boosting sales by the most this year and giving the quarter a stronger-than-expected start.
The broad increase followed upward revisions to the prior two months that erased previously reported declines, Commerce Department data showed Tuesday. Amazon.com's Prime Day event helped non-store retailers post the biggest gain this year, car dealers reported a strong result and sales at department stores climbed the most since January.

The upward revisions set to rest earlier concerns about the trajectory of household purchases, and the July acceleration further added to signs that robust hiring, limited inflation and low borrowing costs are improving purchasing power. The results also mean that consumer spending, which accounts for about 70 percent of the economy and has been the driver of growth in this expansion, remains resilient in the second half of the year.
"Consumer spending has perked up," said Ryan Sweet, an economist at Moody's Analytics Inc. in West Chester, Pennsylvania. "The third quarter is off to a good start. There's really not a lot to complain about in this report."
Highlights of Retail Sales (July)
Overall sales climbed 0.6% (est. 0.3% gain) after 0.3% advance in prior month (revised from 0.2% decline)
Retail-control group sales, which are used to calculate GDP and exclude the categories of food services, auto dealers, building materials stores and gasoline stations, increased 0.6% following a 0.1% gain
10 of 13 major retail categories showed gains
The retail sales data capture just under half of all household purchases. Because the figures aren't adjusted for prices, the results may look even stronger when declining goods costs are taken into account, according to Joshua Shapiro, chief U.S. economist at Maria Fiorini Ramirez. Electronics merchants, gasoline service stations and clothing chains were the only categories to post a drop.

Several economists raised their tracking estimates for the third quarter and expect better numbers for the upcoming revision to the second quarter. Michelle Girard, chief U.S. economist at NatWest Markets, lifted her inflation-adjusted consumption forecast for the period to 3 percent from 2.2 percent, and Greg Daco, chief U.S. economist at Oxford Economics took his forecast to 2.5 percent from 2.3 percent.
"With the labor market in good shape and consumer confidence/sentiment measures buoyant, we don't think there is much downside risk to our forecast," Shapiro wrote in a note after the retail sales report.
— With assistance by Patricia Laya, and Michelle Jamrisko
Before it's here, it's on the Bloomberg Terminal.
LEARN MORE