Remarks
Britain Details Vision for Post-Brexit Customs Deal With EU
Theresa May's government hopes to secure "the freest and most frictionless possible" agreement, but businesses face more red tape.
By and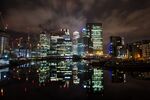 Britain fleshed out its vision for post-Brexit customs arrangements with the European Union, seeking to secure "the freest and most frictionless possible" trade even as it acknowledged businesses might face greater red tape.
With the divorce talks between London and Brussels set to resume in just under two weeks' time, Prime Minister Theresa May's government said on Tuesday that it's keen to maintain something akin to membership of the bloc's customs union for an interim period after the U.K. leaves the EU in March 2019.
That would grant goods exporters tariff-free, bureaucracy-light commerce with Britain's biggest market while the two sides sort out their future relationship. Industry lobby groups welcomed the suggestion, having fretted about a "cliff edge" which would see crippling duties and bureaucracy come into force the day after Brexit.
Potentially pushing its luck, Brexit Secretary David Davis's department also said it wants to be allowed to spend the transition lining up trade deals with other countries. Full participation in the customs union prevents that, and EU officials have warned Britain against trying to cherry-pick the best bits of EU membership, as well as saying that "frictionless" trade is not possible once outside the bloc.
The EU signaled on Tuesday that the U.K. will need to be patient. Chief negotiator Michel Barnier said on Twitter that the sides first need to agree on citizens' rights, a financial settlement and Ireland's border. That's unlikely to happen before October at the earliest.
Guy Verhofstadt, the European Parliament's point person, was less diplomatic. "To be in & out of the Customs Union & 'invisible borders' is a fantasy," he tweeted.
As well as suggesting a short-term fix, Britain detailed two proposals for how a border with the EU may be managed in the long run, arguing both sides have an interest in avoiding paperwork and traffic gridlock. Yet it admitted that exporters and importers are likely to face new requirements—a change of tone from those who campaigned to leave the EU because of the red tape it imposed. Economics consultancy Oxera estimated the proposed customs checks could end up costing 1 billion pounds a year.
Under the first suggestion, dubbed "a highly streamlined customs arrangement," Britain would extend customs declaration requirements currently in place for other nations to EU trade. While it would seek to "simplify" processes, negotiate waivers and increase the use of technology to prevent disruption at ports, "there will remain an increase in administration compared with being inside the customs union," the Brexit department said.
Another problem is that such a "virtual border" could take years to build. The U.K.'s public-spending watchdog said in July there is no guarantee the government's new customs system will be operational by March 2019.
Under the second proposal, called a "new customs partnership with the EU," there would be no need for an EU-U.K. customs border because each side would enforce the other's customs rules, negating the need for a frontier.
Such an arrangement would be unique in the world, but would still require a "robust enforcement mechanism" to ensure goods that don't comply with EU trade policy stay in the U.K.
"It's a positive that the government is now trying to get on the front foot, particularly on avoiding disruption to businesses," said Mats Persson, a former government adviser now head of international trade at consultancy EY. "The big asks—the ability to negotiate new free-trade agreements during the transition and a virtual EU-U.K. border in future—will be a formidable task to negotiate, but it's not impossible."
Mujtaba Rahman, an analyst at Eurasia Group, said much will depend on how much May is willing to pay to leave the bloc. "A lot still hinges on money," he said. "This will determine whether the U.K. can unlock discussions on the future—and these options—in October," when EU leaders next meet.
The government intends to put a bill through Parliament that will include provisions for imposing taxes on EU goods in case a deal can't be made. "It is only prudent that the government prepares for every eventuality," it said. "This is not the government's preferred outcome."

Tuesday's blueprint for customs was hailed as a victory for Chancellor of the Exchequer Philip Hammond, who spent the summer building a consensus among ministers for a smooth Brexit via a transitional period. It may also go some way to soothing concerns within the EU that the first two rounds of talks have made little headway and that the U.K. was ill-prepared.
Lobby groups welcomed the proposals too, although they urged the government to go further to safeguard trade beyond Brexit.
"The commitment from government to explore a customs union for the interim period is a critical first step forward," Confederation of British Industry Deputy Director-General Josh Hardie said in a statement. "This clarity is vital for businesses making long-term investment decisions today."
TheCityUK, which represents the finance sector, said the government must conduct "urgent" talks to support services, which make up a larger share of the U.K. economy.
Open Britain, a group that lobbies for close ties with the EU, accused May's government of "having our cake and eating it," while the opposition Labour Party's former business spokesman Chuka Umunna said ministers are "offering a red-tape bombshell for British business."
Before it's here, it's on the Bloomberg Terminal.
LEARN MORE