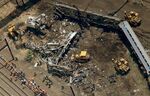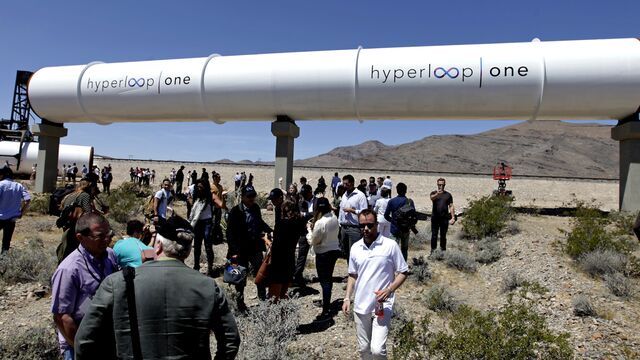 The numbers are pretty unbelievable -- at a top speed of 760 miles per hour (more than 1,200 kilometers per hour), the so-called hyperloop proposed by entrepreneur Elon Musk could whisk travelers from New York to Washington in 29 minutes, one-fifth the time needed by Acela, Amtrak's fastest train. Perhaps even more unbelievable was Musk's tweeted assertion in late July that he had received "verbal government approval" for a hyperloop connecting the two cities. His proposed supertrain might be fast; getting a transformative technology approved and implemented isn't.
1. What exactly has been approved?
Nothing much, it seems. After his eye-popping tweet, Musk clarified that he was referring only to a conversation with a federal official, whom he didn't identify. A White House spokesman said the Trump administration has had "promising conversations to date" with Musk and executives of his tunnel-building Boring Co., which he created in 2016. In a followup tweet, Musk said there's "still a lot of work needed to receive formal approval." That work would likely include years' worth of applications and paperwork from multiple jurisdictions.
2. What's the basic idea?

Back in 2013, Musk published a white paper for a transportation system using a train-like capsule that -- to reduce movement-slowing friction -- floats on air and travels through a low-pressure tube. Much of the idea, as Musk acknowledged, came from predecessors including American physicist Robert Goddard, the "father of modern rocket propulsion." Some of the world's fastest trains already float above their track, using magnetic levitation, or maglev. The world's fastest operating train, the Shanghai Maglev, reaches top speeds well north of 200 mph, and others are planned that will top 300 mph. But that's not fast enough for Musk.
3. How is Musk's hyperloop different?
Rather than rely on maglev, which can be expensive to build, Musk in his white paper proposed using air bearings -- little versions of the jets that let hovercraft skim across water -- to lift passenger "pods." Linear electric motors would propel the pods through tunnels that have very little air in them. What air there is in front of each pod would be sucked in by a battery-powered electric compressor and released in the rear, supplying the air bearings along the way. These enclosed hyperloop tubes could run underground or above-ground on a series of pylons. (A caveat: All this is based on Musk's 2013 paper. "We can't comment at this point on whether that is still the system we plan to use for future projects," a spokesman for Boring Co. said.)
4. Is this fantasy or really possible?
While engineers say a hyperloop is technically possible, it's expensive and would require complicated permitting and approvals in the U.S. and in many other countries. "The obstacles facing a run-of-the-mill highway, tunnel or bridge are great enough," Bloomberg View columnist Virginia Postrel wrote. "Throw in untried and unfamiliar technology and you're asking for endless delays." Writing in Wired, Ricki Harris dismissed hyperloop as "just the latest too-good-to-be-true pledge from the tech world," on par with the promise that we'd all be using Segways by now.
5. Is Musk alone in this?
Not anymore. When he wrote his white paper in 2013, he said he was too busy with his other companies, automaker Tesla and rocket developer SpaceX, to execute his idea, and he encouraged others to delve into it. They did. (Musk does have a trump card -- the trademark for "Hyperloop," which he holds through SpaceX.)
6. Who are the other players?
Perhaps the furthest along is Hyperloop One, a Los Angeles-based company co-founded in 2014 by Silicon Valley venture capitalist Shervin Pishevar. It's raised $160 million in financing and ran a test pod at almost 200 mph on its 0.3-mile-long DevLoop test track in the Nevada desert. (Musk's SpaceX has a test track in Hawthorne, California, that's 0.8 miles long.) Two other Los Angeles-based startups are Hyperloop Transportation Technologies and Arrivo, created by a former co-founder and chief technical officer of Hyperloop One. A team from the Technical University of Delft in the Netherlands that won a SpaceX-sponsored contest for transportation technology has started Hardt Global Mobility, which is working on Europe's first hyperloop test facility.
7. Why is Musk focusing on New York-Washington service?
It's a high-population region with no shortage of potential riders. But precisely because of its density, securing all the necessary permission will be difficult, even if the White House likes the idea. Originally, Musk had proposed Los Angeles-San Francisco, but that route has myriad challenges, among them rights-of-way conflicts and the threat of earthquakes.

8. Why is existing train service in the U.S. so slow?
That's as much a lament as a question. A proposal for a maglev train linking Las Vegas and Anaheim, California, ran out of steam a few years ago. Japanese Prime Minister Shinzo Abe pitched then-President Barack Obama on a maglev train that would link Washington and New York in one hour. Big challenges -- of kinds that could hyperloop plans could face as well -- include fragmented private ownership of the land underlying proposed routes and vocal opposition in some areas. An effort is under way to build a Texas train with top speeds of 205 mph connecting Dallas and Houston, but its future is uncertain. In California, voters in 2008 approved plans for a train connecting Southern California to San Francisco with top speeds of 220 mph. Construction has begun, and the first segment is scheduled to begin operating in 2025.
9. What's been the response to Musk's idea?
A few municipalities have taken a positive stance. Los Angeles Mayor Eric Garcetti and Chicago Mayor Rahm Emmanuel expressed openness to the idea of working with Musk on high-speed transportation tunnels for shorter distances in and around their cities. As for the longer proposed hyperloop on the East Coast, Baltimore Mayor Catherine Pugh said she was "excited" about the plan's potential, and Washington Mayor Muriel Bowser's staff said her office was eager to learn more. But others mostly seemed surprised. "Elon, you must be joking," tweeted a spokesman for New York Mayor Bill de Blasio, saying that nobody in City Hall had heard from Musk or his representatives.
The Reference Shelf
Before it's here, it's on the Bloomberg Terminal.
LEARN MORE