Twitter User Sparks Controversy for Outing Virginia Protesters
By
The @YesYoureRacist account asked followers to ID photos

Critics say it's too easy to identify the wrong person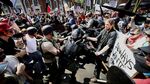 A Twitter Inc. account called @YesYoureRacist sparked controversy after exhorting its 300,000 followers to identify white nationalist and supremacist protesters from last weekend's march and violence in Charlottesville, Virginia.
So far, at least two people who attended the protest have been revealed and one lost his job, according to the Twitter feed. Critics on the right and left said it was too easy to identify a photo incorrectly and ruin someone's reputation. Far-right groups accused the anonymous person behind the account of "doxxing," a term that means unearthing and publishing private information on the internet -- which this technically isn't. 
The Charlottesville rally turned violent amid clashes between white supremacists and counter-protesters. One women died and 19 were injured when a car driven by a man identified as a white supremacist plowed into crowds. Republican and Democratic lawmakers denounced the protests and called on President Donald Trump to more forcefully decry white supremacists after he on Saturday blamed "many sides" for the violence. On Monday, Trump said his administration "condemned in the strongest possible terms the egregious display of hatred, bigotry and violence. It has no place in America."
According to the Twitter account's Patreon site -- a platform that allows users to send money to artists and creators over the Internet -- the person behind @YesYoureRacist has been active since 2012.
"I've been scouring the underbelly of Twitter to expose people who say they're not racist, and then go on to prove otherwise," the site says. Followers have been exploding in number since the events in Charlottesville, and are paying a monthly fee on Patreon to fund the activities. The person who set up the Twitter account didn't respond to messages seeking comment.
The account published a Tweet on Aug. 12 that read: "If you recognize any of the Nazis marching in #Charlottesville, send me their names/profiles and I'll make them famous #GoodNightAltRight."
Private Information
Twitter's policy is that users may not incite the targeted abuse of others, promote violence, or publish other people's private and confidential information, like street address or Social Security numbers. A spokesman said the social-media company doesn't "comment on individual accounts, for privacy and security reasons."
"The law would not protect you if someone takes a photo of you when you're engaged in a protest and identifies it correctly," said Mark Berman, a partner at Ganfer & Shore who advises on social media policy. 
The site misidentified Joey Salads, a YouTube star, as an attendee at the event. He wasn't at the rally. The @YesYoureRacist account apologized for the mistake in a tweet. Multiple Twitter accounts also misidentified a protester as Kyle Quinn, a professor at the University of Arkansas. Quinn tweeted that he wasn't the person pictured in the photo and the university confirmed that Quinn didn't attend the rally.
Cole White, who worked for the Top Dog fast-food restaurant in Berkeley, California, no longer works there after being identified by @YesYoureRacist as part of the demonstrations. The restaurant said it discussed Cole's participation in the protest and he "chose to voluntarily resign his employment with top dog," according to a statement provided to the news website Berkeleyside. "We do not endorse hatred or any illegal conduct. It simply is not part of our culture."
College student Peter Cvjetanovic, 20, was also identified by the Twitter account. He told a local news station in Reno, Nevada, that he traveled to Charlottesville to march in the "Unite the Right" rally to oppose the removal of a statue of Confederate Army General Robert E. Lee. Cvjetanovic said in the interview that he "did not expect the photo to be shared as much as it was" and that he hopes "people sharing the photo are willing to listen that I'm not the angry racist they see in that photo."
Before it's here, it's on the Bloomberg Terminal.
LEARN MORE