Trump Denounces White Supremacists After Backlash
By , , and
Assails KKK, neo-Nazis and 'other hate groups' in statement

Acts after criticism from bipartisan lawmakers and Merck CEO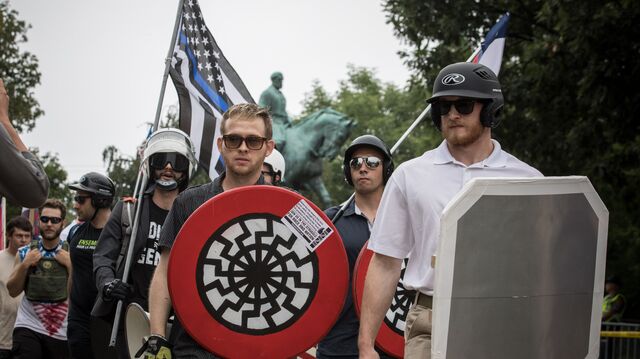 Follow @bpolitics for all the latest news, and sign up for our daily Balance of Power newsletter.
President Donald Trump called out white supremacists for their role in the deadly violence over the weekend in Virginia as the administration sought to counter a backlash against his initial failure to directly hold hate groups accountable.
"Racism is evil and those who cause violence in its name are criminals and thugs, including the KKK, neo-Nazis, white supremacists, and other hate groups that are repugnant to everything we hold dear as Americans," Trump said on Monday at the White House.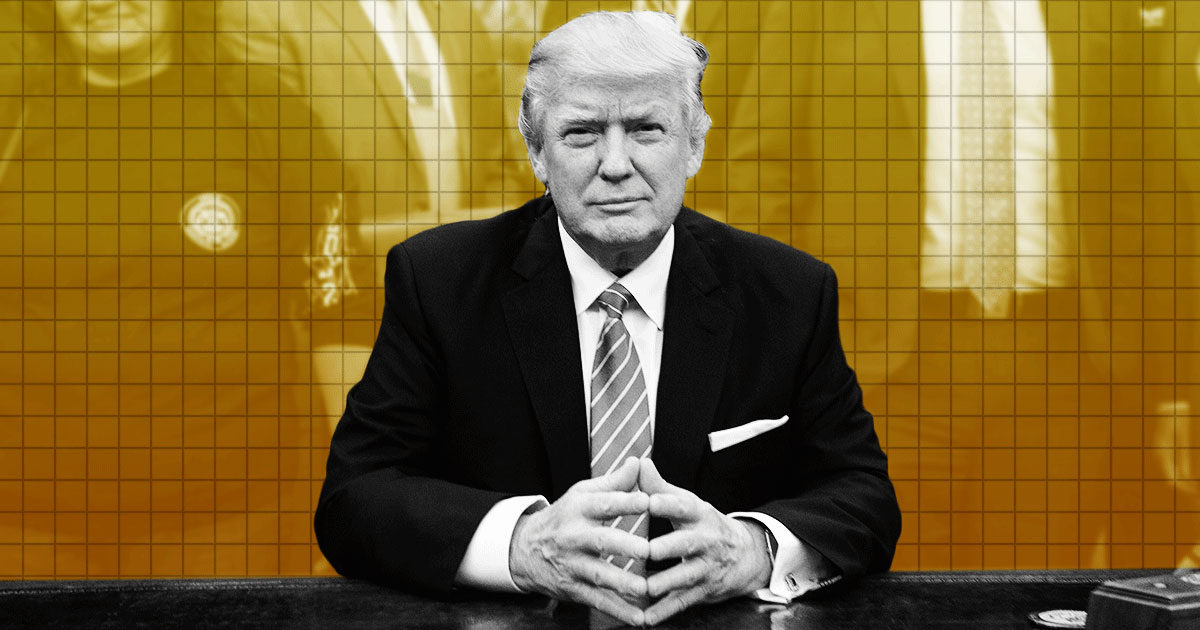 Trump's statement, carried live on national television, came amid growing bipartisan condemnation of his early reaction blaming "many sides" for the weekend violence in Charlottesville, Virginia. On Aug. 12, a participant in a white supremacist rally there rammed a group of counter-demonstrators with a vehicle, killing one woman and injuring at least 19 others.
Republican and Democratic lawmakers assailed his initial response as inadequate. Merck & Co. Chief Executive Officer Ken Frazier resigned Monday in protest from Trump's manufacturing council, saying "America's leaders must honor our fundamental values" by rejecting expressions of hatred, bigotry and group supremacy.
Under Armour Inc.'s Chief Executive Officer Kevin Plank and Intel Corp.'s Brian Krzanich Monday evening also said they were leaving the council. "I am appreciative of the opportunity to have served, but have decided to step down from the council," Plank said in a statement. "We remain resolute in our potential and ability to improve American manufacturing. However, Under Armour engages in innovation and sports, not politics."
Trump's job approval fell to 34 percent in the daily Gallup tracking poll, its lowest level ever in the poll.
The White House hastily arranged Trump's statement as the weekend barrage of criticism intensified Monday, summoning the White House pool of reporters without advance notice. He stood at a lectern reading prepared remarks and took no questions.
'Held Accountable'
"To anyone who acted criminally in this weekend's racist violence, you will be held accountable," Trump said, adding that he had just met with Attorney General Jeff Sessions and FBI Director Chris Wray for an update on a federal civil rights investigation into the incident.
"We must love each other, show affection for each other and unite together in condemnation of hatred, bigotry and violence," he added.
House Democratic Leader Nancy Pelosi of California blasted Trump's delay in denouncing supremacists for the violence and called on him to fire his chief strategist, Stephen Bannon, whom she called "an alt-right white supremacist sympathizer."
"From the beginning, President Trump has sheltered and encouraged the forces of bigotry and discrimination," Pelosi said in a statement emailed to reporters. "President Trump's failure to immediately denounce white supremacy is well in line with the unmistakable conduct of his Administration toward immigrants, Muslims, and communities of color."
Video images of the violence surrounding the white supremacist rally played out on U.S. and global television throughout the weekend, galvanizing the public. Many of the participants openly carried guns as they came to protest the removal of a statue of Confederate war general Robert E. Lee. Photos showed a group white men using large metal poles to beat a black man crouching on his knees.

Alex Fields Jr., 20, who drove into the counter-protesters, was charged with second-degree murder in the death of Heather Heyer, 32. Two Virginia state troopers who were observing the demonstrations died in a helicopter crash.
Trump said Saturday that "many sides" bore blame for the violence, without directly repudiating racial supremacists. After criticism of the response from across political spectrum, the White House on Sunday released a statement saying that "of course" the president included white supremacists, neo-Nazis "and all extremist groups" in that statement.
Trump Response
After Frazier resigned from the White House advisory group Monday, Trump responded angrily less than an hour later on Twitter, suggesting the CEO should use the extra time to focus on lowering "ripoff drug prices." The presidential tweet fed a storm of criticism throughout the morning Monday.
Sessions, in a round of TV interviews on Monday, insisted that Trump was opposed to white supremacist values and would be saying more.
But many Republicans indicated Trump already had let a crucial moment pass.
Senator Tim Scott of South Carolina, the chamber's only black Republican, said in a statement that Trump's comments on Monday should have been delivered sooner.
"Today, the president's remarks were clear and specific. However, they would have been more impactful on Saturday," he said. "We must take a firm stance against hate and violence."
On Sunday, Senator Lindsey Graham, a South Carolina Republican, told Fox News that Trump
"missed an opportunity to be very explicit here."
"These groups seem to believe they have a friend in Donald Trump in the White House," Graham said.
Trump's "America First" campaign and his bellicose rhetoric drew support from many right-wing fringe groups during the presidential campaign. He has repeatedly drawn criticism for his handling of issues related to minority groups.
During the presidential campaign, Trump retweeted praise from the social media accounts of white supremacists. His social media director, Dan Scavino, now a White House employee, also posted an image to Trump's Twitter account that showed a Star of David near the head of Hillary Clinton as money rained down, which opponents and Jewish groups criticized as anti-Semitic.
Public Controversies
When asked initially during the presidential campaign about receiving the endorsement of David Duke, Trump said he didn't know anything about the former Ku Klux Klan leader. After days of criticism, Trump later said that he disavowed him.
He also has waded into public controversies with statements that his critics consider racially tinged. Trump for years suggested without evidence that former President Barack Obama was born outside of the U.S., only saying he accepted the U.S. citizenship of the nation's first African-American president after clinching the Republican presidential nomination. In 1989, he paid for a full page ad in the New York Times calling for the death penalty for a group of black teenagers known as the Central Park Five, who were convicted but later exonerated of raping a white woman.
After Trump won the White House, Trump's staffing decisions also drew criticism. Bannon, the president's senior adviser, was the former editor of Breitbart and had described the website as a "platform for the alt-right." Sebastian Gorka, one of the president's counterterrorism advisers, has come under fire for his family's ties to a Hungarian group called Vitezi Rend that collaborated with the Nazis during World War II. And white supremacist leader Richard Spencer has said he worked with Trump adviser Stephen Miller while they were both students at Duke University, though Miller has said he completely repudiates Spencer.
Those aides were the driving force behind the president's early move to ban travel from several Muslim-majority countries. That effort drew criticism from a wide swath of companies, with more than 160 technology firms, including Amazon.com Inc., Facebook Inc., and Google corporate parent Alphabet Inc. who joined a legal brief criticizing the executive order. Technology firms have also criticized the administration's efforts to restrict access to H-1B visas for high-skilled workers, and eliminate an Obama administration program that would have provided visas for foreign entrepreneurs who received startup funding.
Last month, Trump announced that he was moving to ban all trans-gender service members from the military, in another move that drew bipartisan criticism.
"I don't think we should be discriminating against anyone," Republican Senator Orrin Hatch of Utah said in a statement in response to the transgender ban.
— With assistance by Jennifer Epstein, Justin Sink, and Cynthia Koons
Before it's here, it's on the Bloomberg Terminal.
LEARN MORE