Noble Group Hit by `Loss of Confidence' as Ratings Cut Again
By , , and
S&P, Moody's cut company ratings further into junk territory

Planned sales may hurt ability to generate profit, cash flow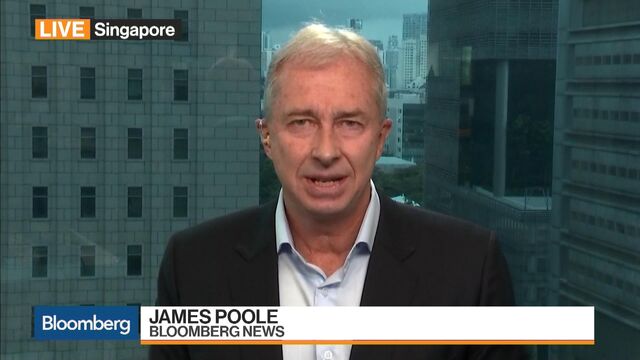 Start your day with what's moving markets in Asia. Sign up here to receive our newsletter.
Noble Group Ltd. may default on its debt as soon as the next six months, according to S&P Global Ratings and Moody's Investors Service, which again cut their scores on the commodity trader while warning that planned asset sales may be insufficient to cover obligations.
The ratings were cut two notches by S&P and Moody's late on Monday, pulling them deeper into junk territory and closer to the likelihood of default. S&P sees non-repayment risk in the next six months, while Moody's said the prospect of a full recovery of principal and interest will be low for unsecured bondholders in the event of a default, according to statements.
Noble Group is fighting for its life more than two years into a crisis marked by accounting criticisms and a collapse in its securities. The Hong Kong-based company posted a $1.75 billion loss for the second quarter, a surge in net debt, and it's selling its gas-and-power and oil liquids operations to shore up its finances. Moody's said the latest result was driven in part by a loss of confidence, and warned planned sales may not be enough.
"The increased losses reflect in part a loss of confidence among Noble's lenders, suppliers, customers and other counter-parties," Moody's said. It is uncertain whether the planned sales "will raise sufficient proceeds to meet its debt maturities and cash outflow over the next 12 months," it added.
Noble Group's shares initially fell as much as 4.7 percent to 41 Singapore cents on Tuesday after the twin downgrades, before closing 1.2 percent higher at 43.5 cents. The stock has still plunged 74 percent in 2017 after double-digit losses in the previous two years.

Noble Group has $2.6 billion in bank debt and bonds due in the next 12 months, according to Moody's. It has two months to restore confidence among its banks, counter-parties and investors after securing a covenant waiver until Oct. 20 from lenders on its $1.1 billion revolving credit facility due in May.
Read more: Noble Group Ballooning Debt Seen Raising Restructuring Risk
The company has agreed to sell its gas-and-power unit to rival Mercuria Energy Group Ltd. for $248 million and is seeking buyers for its oil liquids business. It has unsuccessfully searched for more than a year for a "white-knight" investor to inject fresh capital.
In the results presentation last week, Noble Group Chief Financial Officer Paul Jackaman said a first-quarter loss had triggered significant challenges, and there'd been a reaction from lenders, suppliers, customers and counter-parties. There's now a need for "restoring the confidence," Jackaman said.
Separately, Noble Group's chairman Paul Brough, who took up his post in May and is now heading up a strategic review, said: "We need to press on with the sale of our businesses in North America." He added: "Time is a factor in maximizing proceeds, because of the high fixed cost base."
— With assistance by Denise Wee
Before it's here, it's on the Bloomberg Terminal.
LEARN MORE