New York Braces as Thousands Gather to Protest Trump Visit
By and
Police close streets around Trump Tower during visit

Trump taking heat for initial comments about Charlottesville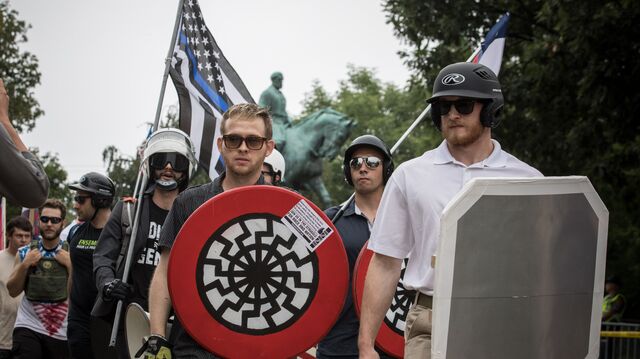 Follow @bpolitics for all the latest news, and sign up for our daily Balance of Power newsletter.
Thousands of people took to New York streets on Monday to protest president Donald Trump's response to weekend violence in Virginia, clogging midtown Manhattan as he arrived for his first overnight stay in the city since taking office.
The president landed at John F. Kennedy International Airport about 8:15 p.m. Monday night. After a 20-minute Marine One helicopter flight to a landing zone near Wall Street, his motorcade whisked him to his triplex home at Trump Tower overlooking Fifth Avenue.

Police earlier had swept in and cleared the area in front of Trump Tower, which is protected by a line of parked sand-filled sanitation department dump trucks lining the streets.
The three-day visit is spurring protests, particularly after he stopped short of explicitly denouncing white nationalists who gathered in Charlottesville in his initial remarks over the weekend. After fielding criticism from both sides of the aisle, Trump on Monday declared that "racism is evil" and denounced hate groups by name.
For Lori Schomp, 36, a public health graduate student at Columbia University, and until recently a Republican, Monday's protest was her first demonstration. "His statement over the weekend equating the white supremacists with the people opposed to them was the last straw," she said near the hotel. "If you're ever going to overreact against something, Nazis are a pretty good place to start."
On Sunday, protesters marched from Columbus Circle through Times Square and then to Trump Tower, holding signs criticizing his response to the events in Charlottesville. Police temporarily shut down traffic on Fifth Avenue.
Roads near Trump Tower will be closed during the president's visit. The New York Police Department said residents should expect shutdowns and delays in the area surrounding East 57th Street and Fifth Avenue until Trump departs, and is encouraging the use of mass transit.
Mayor Bill de Blasio said New Yorkers should skirt the area.
"The best thing is, if you can avoid that part of town, please stay away from that part of midtown," de Blasio said Sunday at the Dominican Day Parade.

The nighttime arrival should curb the impact on rush hour traffic -- a major concern for Trump, who has said one reason he's limited travel to his home city is the impact on commuters. Last week, Trump told reporters in Bedminster, New Jersey, he'd experienced how troublesome presidential visits were to the city.
"During the time that I lived in Manhattan, whenever a president came in, it was very disruptive, and I think I'm probably more disruptive than any of them," he said.
While the president's "working vacation" this week will be his first time spending the night in New York since his inauguration, Trump has visited the city since taking office. In May, he hosted Australian Prime Minister Malcolm Turnbull aboard the Intrepid Sea, Air & Space Museum for diplomatic talks and a gala to commemorate the World War II alliance between the U.S. and Australia.
The president is expected to return Wednesday to his Bedminster golf course to finish his two-week vacation.
Before it's here, it's on the Bloomberg Terminal.
LEARN MORE