It's 'Game On' for War If North Korea Strikes Guam, Mattis Warns
By
Defense chief says U.S. would know of a launch within moments

'I need a certain amount of ambiguity,' Mattis says of plans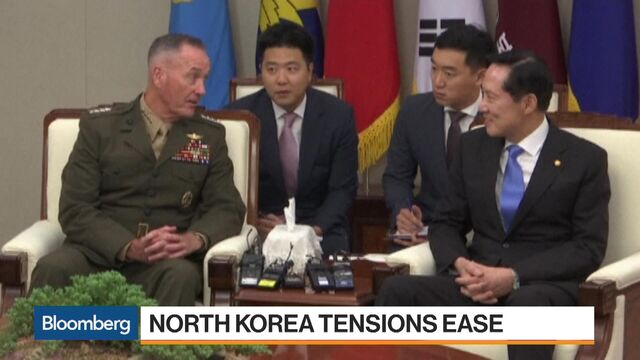 Defense Secretary Jim Mattis warned it would be "game on" for war if North Korea fired missiles that hit the U.S. or its territories, including the Pacific island of Guam.
"It could escalate into war very quickly -- yes, that's called war," Mattis told reporters Monday at the Pentagon. "If they shoot at the United States, I'm assuming they hit the United States -- if they do that, then it's 'game on'." Asked if he considers Guam part of the U.S., he said, "Yeah, it sure is."

About 7,000 U.S. military personnel and their families are on Guam, an unincorporated U.S. territory with a total population of 170,000. The strategic outpost is about 2,100 miles (3,400 kilometers) southeast of Pyongyang. After President Donald Trump warned the U.S. would unleash "fire and fury" if  Kim Jong Un's regime continued to threaten nuclear war, North Korea outlined a plan to fire four intermediate-range ballistic missiles to land near Guam.
Mattis was vague about what would happen if missiles were launched toward Guam but splashed into the sea. He said U.S. surveillance would know if the missiles would hit land within moments of them being fired. "I need a certain amount of ambiguity because I'm not going to tell them what I'm going to do in each case," Mattis said.
Read More: How North Korean Tensions Put Americans on Guam in Crosshairs
Mattis cautioned against portraying his words as a virtual declaration of war. He said that "is up to the president, perhaps up to the Congress. The bottom line is we will defend the country from an attack."
Kim discussed plans for Guam with his commanding officers during an inspection of military forces on Monday, the state-run Korean Central News Agency reported. The North Korean leader said he will watch the U.S.'s conduct "a little more" and praised his strategic force for drawing up "a close and careful plan," KCNA said.
With military commanders waiting for orders from the Workers' Party Central Committee, Kim added he would "watch a little more the foolish and stupid conduct of the Yankees spending a hard time of every minute of their miserable lot," KCNA reported.
The typically blunt words from Mattis came hours after the top U.S. general reassured South Korea that a diplomatic solution to the tensions with North Korea over its nuclear arsenal was Trump's priority.
Marine General Joseph Dunford, chairman of the Joint Chiefs of Staff, reaffirmed the U.S. commitment to protect South Korea after a meeting with President Moon Jae-in, spokesman Park Su-hyun told reporters in Seoul on Monday. "Dunford told Moon everyone hopes to resolve the current situation without going to war," Park said.
Other administration officials also have sought at least a temporary halt in the war of words between Trump and Kim, which sparked fears that a miscalculation could lead to conflict. Global stocks gained and volatility receded Monday as the prospect of war between the two countries appeared to cool.

Diplomatic Overtures
European Union Foreign Policy Chief Federica Mogherini called in a statement Monday for North Korea to "refrain from any further provocative action." She said the EU "and its member states will strengthen their diplomatic work by reaching out" to North Korea and South Korea, the U.S., China, Russia and Japan.
In a joint commentary in the Wall Street Journal, Mattis and Secretary of State Rex Tillerson said "the U.S. is willing to negotiate with Pyongyang," but appeared to reject China's "suspension-for-suspension" proposal, in which North Korea would halt further nuclear and missile tests in return for the U.S. and South Korea stopping joint military drills in the region.
Read more: What U.S.-North Korea hostilities might look like
"Given the long record of North Korea's dishonesty in negotiations and repeated violations of international agreements, it is incumbent upon the regime to signal its desire to negotiate in good faith," they wrote. "A sincere indication would be the immediate cessation of its provocative threats, nuclear tests, missile launches and other weapons tests."
Mattis, who also sought last week to emphasize diplomatic efforts, said Monday that he wasn't trying to reignite tensions.
"It's not that I'm over here -- Dr. Strangelove," he said, but "you don't shoot at people in this world unless you want to bear the consequences."
— With assistance by Richard Bravo
Before it's here, it's on the Bloomberg Terminal.
LEARN MORE