Markets Are Already Shrugging Off the Selloff That Barely Was
By and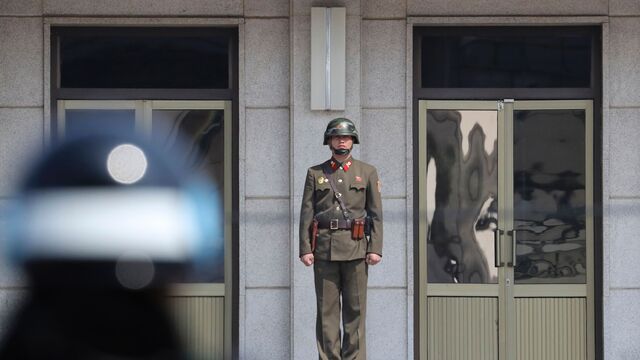 The so-called havens that benefited from escalating geopolitical tensions have quickly become the have-nots, as markets begin to put last week's bout of stress behind them.
With the notable exception of high yield, appropriately-named-or-not risk assets were bruised but not broken amid the dramatic rhetoric between the U.S. and North Korea. In some cases, they found support from technical indicators that spared them harsher punishment, while other markets didn't approach levels that would cause investors to question the durability of this year's rally.
The Dow Jones Industrial Average is already back in positive territory for August, and never came close to breaching its 50, 100, or 200-day moving averages during the two-day tumult -- in stark contrast to the selloff that followed the 2015 devaluation of the yuan.

The CBOE Volatility Index, commonly called the VIX or fear gauge, had retreated to within a hair of its one-year average by 11:00 a.m. on Monday in New York.

The yen and the Swiss franc rallied Aug. 9 after U.S. President Donald Trump warned of "fire and fury" against North Korea. Yet, a reversal of sentiment since Aug. 11 has seen both currencies giving back most of their gains against the euro. Moves against the dollar are less pronounced as Friday's inflation data out of the U.S. weighed on the greenback.

At one point on Monday morning, the euro had nearly pared all of its declines against the yen since Aug. 9.

The move in euro-Swiss franc found support at levels where technical analysts would expect a healthy correction of an ongoing trend: the 38.2 percent Fibonacci retracement of the pair's gains since June 23, a level that coincided with the 50 percent retreat of the common currency's rally in the past two weeks.

Last week's price action in havens could have been even more contained if liquidity in the spot and options markets were optimal. August trading tends to see exacerbated moves at times as the summer lull and traders' holidays point to algorithmic trading driving the market.
As the old adage goes, risk happens fast. During this bull market, risk off happens fast, too.
Before it's here, it's on the Bloomberg Terminal.
LEARN MORE