Business
Hawking TVs on Tinder Helps Fuel 2000% Rally in Brazil Stock
By and
Magazine Luiza's surge makes it world's top major retail stock

Digital saleswoman helps crack tricky Brazil e-commerce market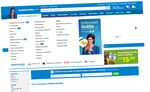 Lu's not like other girls on Tinder. For starters, she's an avatar.
The digital saleswoman popped up on the dating app last June, offering coupons as part of Brazilian retailer Magazine Luiza SA's strategy to boost e-commerce. She's been surprisingly effective, lifting the company's online sales by almost five times the pace of the overall market in the first half of the year and helping make Magazine Luiza the world's best-performing major retail stock.
Onlookers from the developed world might be tempted to write off Lu as a gimmick in this increasingly crowded digital era. But in Brazil, she's become something of a trailblazer, an unlikely bridge between a leery consumer base and online retailers who have struggled to gain a foothold in Latin America's largest economy.
"Lu was created to encourage people who aren't so comfortable with technology. When she was introduced, there was nothing like it out there," said Pedro Guasti, chief executive officer of Ebit, an e-commerce researcher in Brazil. "In that sense, she's pretty special."
Magazine Luiza has increased online sales by 56 percent in the first six months of 2017 from a year earlier, a pace that dwarfed the 12 percent gain for all e-commerce in Brazil, according to the company and Ebit. Investors have noticed, driving up shares more than 2,000 percent since the start of 2016. The stock rose as much as 2.4 percent to a record 423.90 reais on Monday in Sao Paulo.
"Magazine Luiza will be the Amazon of Brazil," said Luiz Alves Paes de Barros, the Brazilian tycoon whose Alaska Investimentos Ltda. made the retailer one of its biggest holdings before the rally took off.
To much of the world, e-commerce has already joined the ranks of the microwave and smartphones: omnipresent and hard to live without. But in emerging markets like Brazil, shopping online has yet to really gain acceptance, accounting for just 4.5 percent of retail sales, compared with 14 percent in the U.S. Consumers don't quite trust big companies or anonymous payment systems. And for good reason. Corruption, robberies and scams -- both online and on the street -- are just too common.
Dealing with Lu has proven to be less of a leap for many Brazilians, many of whom don't even have credit cards. Go online and Lu's ready to chat about what appliances offer the best value or how to share videos between smartphones and TVs. Within 12 hours of hitting Tinder in June, the pretty-if-somewhat stiff brunette had garnered more than 150,000 matches from both men and women hunting not for a hookup so much as a good deal on refrigerators and TVs. She's popped up on newscasts, takes questions on Facebook, and her Youtube channel has 500,000 followers. Bucking the trend toward artificial intelligence, Magazine Luiza keeps a live person behind the avatar, not a so-called chat bot.
"We're in Brazil -- we need that human warmth," says Frederico Trajano, Magazine Luiza's 41-year-old CEO, whose mother, Luiza Helena Trajano, is the original Lu.
Trajano turned Magazine Luiza's website into a market place last year, meaning the company now brokers sales between third-party vendors with consumers. The move helped boost online sales to 28 percent of total revenue in the second quarter from 18 percent two years earlier.
While analysts don't expect the stock to repeat its stellar rally, four of the six who rate the shares still recommend buying Magazine Luiza.  At 23 times its estimated earnings, its valuation is less than half that of MercadoLibre Inc., Latin America's largest online platform. It's also lower than Via Varejo SA, the appliances and electronics arm of the grocery store chain known as Pao de Acucar.
In figuring out how to crack Brazil's tricky e-commerce market, Magazine Luiza may be setting a course for fellow retailers in other emerging nations. While the company is focusing on its digital strategy, Trajano says its network of 800 physical stores in more than half of Brazil's 26 states also plays a key role. Because of high shipping costs in Brazil, consumers can buy their goods online and choose to pick them up at a local store, a strategy that's also proven successful for retailers in Canada.
"In coming years, we'll continue to grow the two channels, but e-commerce will grow at a faster pace," Trajano said. "In three to five years, we want 50 percent to come from e-commerce and 50 percent from the stores."
Before it's here, it's on the Bloomberg Terminal.
LEARN MORE