Brazil Democracy at Risk Without Defense Boost, Minister Says
By
In previous elections criminal gangs have disrupted voting

Country's dire fiscal crisis fuels fears of rise in crime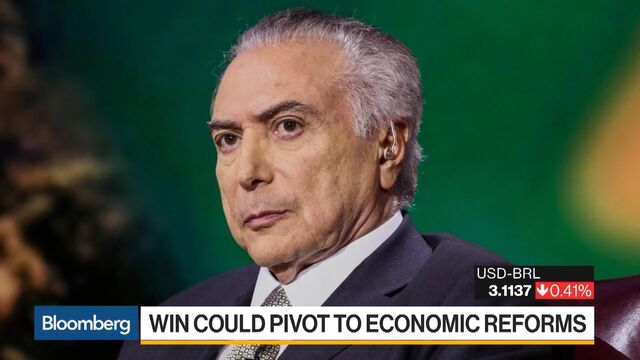 Brazil's democracy is at risk if the armed forces are not properly funded to fight organized crime, according to the country's Defense Minister, Raul Jungmann.
"The armed forces are at their limit, they need room to breathe," Jungmann said in an interview with Bloomberg in his office in Brasilia. "We need special measures for defense. It's the price the nation ought to pay for its sovereignty."

The army has taken part in operations carried out by the Rio de Janeiro state's security forces against organized crime. At the beginning of this month, a joint task force of around 5,000 military personnel and police officers targeted factions involved in drug-trafficking and cargo theft. Some communities there are beyond the control of the state, Jungmann said, and criminal organizations stop their residents from voting freely.
The violent nature of organized crime favors the spread of radical ideas, like the death penalty, as well as populists' claims that try to fool people into quick-fix solutions, he said. The comments were an apparent reference to federal deputy Jair Bolsonaro, an army reservist who intends to run for the presidency in 2018 on a hard-line law and order platform.
"It would be good to get some results from these operations by 2018 because the lack of security destroys conviviality," Jungmann said. "It has a regressive effect on society, both at the civilizational and humanitarian level."
From 2011 to 2015 Brazil registered more violent deaths than Syria, according to the Brazilian Forum on Public Security. Close to 60,000 Brazilians were murdered in 2015 alone, the last year for which figures were available.
"When crime reaches a certain level, like in Mexico, this becomes a problem for democracy itself as constitutional rights and guarantees start becoming violated," Jungmann said.
The power of organized crime in Brazil, on top of the country's dire fiscal crisis that has crippled basic state functions and delayed salaries for public sector workers, including police, has spawned fears of a deterioration in security ahead of the 2018 elections.
In last year's municipal elections in the north-eastern state of Maranhao gangs attempted to block voting.
Jungmann said that he is waiting for the economic team to free up resources after the government slashed the defense investment budget in 2017, as part of across-the-board cuts in public spending. The ministry had drawn up an investment budget of 15 billion reais ($4.7 billion) before the government froze 9.6 billion. Jungmann is due to meet the Finance Minister, Henrique Meirelles, shortly to plead his case for extra funding.
Yet the idea of increased armed forces spending to contain crime when several police forces are under-funded, rubs many people the wrong way in a country where the military ruled until just over three decades ago.
President Michel Temer in May triggered an uproar and had to issue a statement justifying his actions when he sent soldiers and marines to patrol the streets of Brasilia during anti-government protests that ended up torching a ministry building.
Policing alone is not the enough to stop the public security crisis, says Jungmann, who was elected as a federal deputy and previously held the agricultural development portfolio.
"Rio de Janeiro is in a fiscal crisis, unable to pay even salaries and overtime compensation for security forces, and without improvements in infrastructure or health care, the situation tends toward unrest and despair," he said.
Jungmann praised the federal government's recent decision to nearly double the amount of families in Rio de Janeiro eligible for the benefits program, Bolsa Familia. The defense minister said it will help to protect poor families who are most vulnerable to the crisis. 
There is no long term solution to Brazil's violence unless the country addresses the underlying conditions that allow crime to flourish, he added.
Before it's here, it's on the Bloomberg Terminal.
LEARN MORE