Chris Rock Takes Aim at Trump's Charlottesville Response
By
Violence and Trump's remarks hang over Apollo Theater benefit

'Oh my God, today's really the nadir,' says billionaire Speyer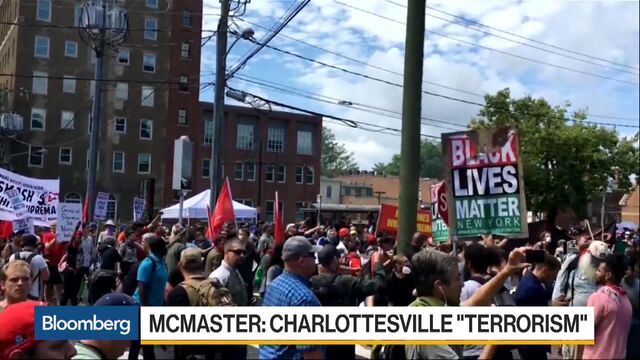 Follow @bpolitics for all the latest news, and sign up for our daily Balance of Power newsletter.
Chris Rock, without wasting a second, took direct aim at Donald Trump's condemnation of "bigotry and violence on many sides."

"There's so many!" the comedian quipped.
It was after sunset on Saturday, and Rock was joining billionaire Ron Perelman's annual party in East Hampton to raise money for Harlem's Apollo Theater. In a normal year, it's a celebration where Wall Streeters and other elites party into the night with actors and musicians, some of whom grace the stage inside Perelman's barn.

But this time, it happened to land hours after white supremacists and neo-Nazis descended on Charlottesville, Virginia, setting off deadly violence that left Governor Terry McAuliffe declaring a state of emergency.
Like the rest of America, most attendees were still processing.

At one point, Steve Schwarzman questioned criticism of the president for not directly condemning neo-Nazis and white supremacists in his response to the Charlottesville events. The Blackstone CEO, who sits on Trump's business advisory council, had watched some footage on television and was struck by the chaos.
"I thought he was talking about the violence on both sides," Schwarzman said. "I don't think it was a far-reaching statement."
(On Monday, after the backlash intensified, Trump called out hate groups for their role in the violence. And in a separate statement, Schwarzman called bigotry, hatred and extremism an affront to American values.)

Goldman Sachs CEO Lloyd Blankfein said he was still formulating his own remarks. "It was a bad day," he said. "I will tweet later." (On Monday morning, Blankfein sent a tweet quoting Abraham Lincoln: "A house divided against itself cannot stand" and added, "Isolate those who try to separate us. No equivalence w/those who bring us together.")
The guy standing next to him, New York Attorney General Eric Schneiderman, had already sent a tweet, calling the violence "an affront to everything this country represents."
"Oh my God, today's really the nadir -- it's a terrible thing for America," said Jerry Speyer, the real estate billionaire. "Shame on all the people that were involved. What's really awful is the divisions, Democrats and Republicans, East and West, North and South. We're better than that."
Speyer said he's hopeful politicians will find a way to convert it into something good.

Just after 11 p.m., former New York Police Commissioner Ray Kelly asked a reporter what the latest news was, concerned about both Charlottesville and North Korea. "In the world that we live in, every hour it could totally change," he said.
Wes Moore, CEO of the Robin Hood Foundation, called for moral courage. "We can never let hatred become justified."

The party, meanwhile, went on -- with fried chicken, brisket, brownies and three hours of live music.
Mavis Staples, a voice of the civil rights era, sang Buffalo Springfield's "For What It's Worth" with Jon Bon Jovi. Memphis-born Justin Timberlake slowed down "SexyBack" with help from The Roots. Patty Smyth sang "The Warrior" from her band Scandal. Gary Clark Jr., who said he knew of the Apollo as a kid in Austin, Texas, jammed on guitar. For sultry there was Alice Smith, for hippie, Citizen Cope and for heart-stopping, Alicia Keys on "Empire State of Mind." Jamie Foxx brought John McEnroe, Robert Downey Jr. and Priyanka Chopra on stage to dance to '70s hits and his own.

About 400 guests attended, including Ruth Porat, Jennifer Lopez and Alex Rodriguez, Joseph Perella, Rashida Jones, Charles Phillips, Glenn Fuhrman, Kyle MacLachlan, Jimmy Buffett and Harvey Weinstein.

Some people gave as much as $250,000, raising a total of more than $5 million -- a record -- to help support the Apollo, including its education programs.
"You look at what happened in Virginia," Perelman told the audience. "It is events like this that bring us together."
Music is an especially powerful uniter, he added. "I hope you take away something that will make the world better."
Before it's here, it's on the Bloomberg Terminal.
LEARN MORE