Five Things You Need to Know to Start Your Day
Get caught up on what's moving markets in Asia.
By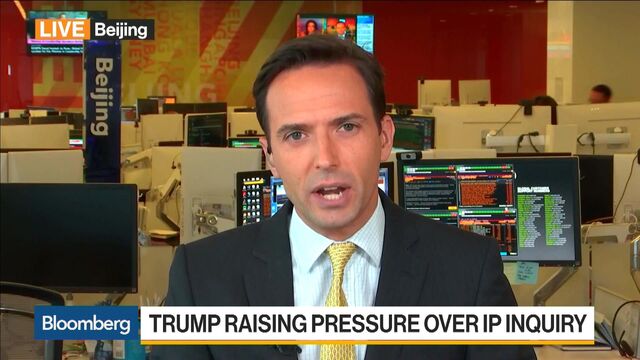 Want to receive this post in your inbox every morning? Sign up here.
Xi tells Trump to stay calm, Trump plans to push for investigation into China's IP policies, and boatloads of data coming. Here are some of the things people in markets are talking about.
Hotline Beijing
Amid escalating tension over North Korea, Chinese President Xi Jinping told U.S. President Donald Trump that all parties involved should keep their cool and steer clear of fighting words, during a phone call on Friday night. Both leaders agreed Kim Jong Un's regime must stop its provocative behavior, another sign that it's been getting tougher for Xi to support this naughty neighbor. The U.S. and North Korea have been in regular contact through diplomatic back channels for several months, though without any sign that the regime will dial back its nuclear ambitions. While the latest sanctions will hurt North Korea's economy, cutting the regime's access to Chinese fuel would have a much larger effect: disrupting its air force and electricity system. Earlier Friday, Trump said he was considering more economic sanctions, and that a military response could be in the offing should Kim Jong Un make any "overt threat." But despite the president's rhetoric, it's been largely business as usual for the U.S. Defense Department. On Sunday, a pair of top U.S. national security officials said any fears of an imminent nuclear war with North Korea were misguided.
Trade War?
U.S. President Donald Trump is poised to sign an executive memorandum on Monday urging American agencies to consider investigating China's intellectual property practices — even as he continues to seek more co-operation from his counterpart Xi Jinping on dealing with Kim Jong Un's regime. The administration has yet to put forward meaningful barriers to U.S.-Chinese trade, as manifold special interests and deep economic linkages make it difficult to effect major change. Trump had previously promised action against foreign powers like China that are "dumping steel" onto the U.S. market; last week, Commerce Secretary Wilbur Ross said the U.S. would look to impose levies on imports of aluminum foil from the world's second-largest economy.
Six Straight
Japanese growth, due out at 8:50 a.m. Tokyo time, likely picked up in the second quarter of this year to an annualized pace of 2.5 percent from 1 percent in the first three months of the year. This would mark six consecutive quarters of growth, the nation's longest such streak since 2006. Economists' estimates suggest that domestic demand is expected to play a bigger role in driving activity than trade. However, geopolitical developments may have more sway over Japanese assets than growth data, with Japanese officials slated to travel to Washington D.C. this week to discuss security and defense options with U.S. counterparts.
More Data
It's that time of the month: a deluge of July economic data from China is due out at 11 a.m. Tokyo time, expected to affirm that economic output continues to expand at a steady, relatively robust clip. That's in line with what early gauges of activity have implied. Retail sales are projected to have risen 10.5 percent over the first seven months of the year relative to the same period in 2016. Both industrial production and fixed asset investment are expected to maintain the same year-to-date rate of annual change posted in June, of 6.9 percent and 8.6 percent, respectively. Other major events on the calendar: a speech from Reserve Bank of Australia Assistant Governor Christopher Kent, second-quarter retail sales from New Zealand, and July inflation data – for wholesale and consumer prices – out of India.
White Nationalists Rally in U.S.
In Virginia on Saturday, there were three deaths linked to what is believed to be the largest gathering of white nationalists in a decade. They had assembled to protest the city of Charlotteville's decision to remove a statue of Confederate General Robert E. Lee. A man was arrested after driving a car into a crowd of peaceful counter-protestors, causing many injuries and one death; and two officers died when a police helicopter in the area crashed. U.S. President Donald Trump initially expressed disappointment with "many sides" for the violence between white nationalists and counter-protestors. The president faced heavy criticism for not specifically denouncing the white nationalists and neo-Nazis; a follow-up statement from the White House indicated that his condemnation extended to these groups.
What we've been reading
This is what caught our eye over the last 24 hours.
Before it's here, it's on the Bloomberg Terminal.
LEARN MORE