Signs of Wage Growth Start to Appear in Euro Zone's North
By and
Finland's economy grew at fastest pace in euro zone in 1Q

After years of belt-tightening, Finnish unions have had enough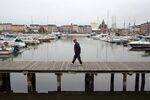 If Mario Draghi, the president of the European Central Bank, is looking for signs of wage growth, he might find comfort in Finland.
After delivering the euro zone's fastest pace of economic growth in the first quarter, Finnish workers have had enough belt-tightening and are now demanding pay rises they say are only fair given the rebound in exports.
Finns have put in longer hours and given up bank holidays in response to government demands. Their efforts helped drag the Nordic region's only euro member out of a three-year recession. Now, a sense of entitlement is spreading, setting the stage for what are likely to be the toughest wage negotiations the country has seen in years.
Finnish industry is improving and exports are growing again, said Petri Vanhala, chairman of the Finnish Paper Workers' Union, which represents 36,400 workers. That means there should be "something falling into the pocket of the worker," he said in an interview in Helsinki.
Read more on euro area inflation here
A report on Monday showed Finnish inflation slowed to 0.5 percent in July from 0.7 percent in the month before, way below the euro area's overall 1.3 percent rate.
Vanhala and other union representatives have timed their fight carefully. Export growth has outpaced most forecasts and the biggest Finnish industrial companies are now more profitable. Meanwhile, wages over the past half decade have increased just 6 percent.
Businesses should be able to afford paying average workers more, Vanhala said. The unions are only making reasonable demands, he said, and will "not go crazy."
But on the other side of the negotiating table, employers remain cautious. They say Finland's economy is still too fragile to risk giving up any competitiveness gains.
"We need economic growth in the long term and that should not be spoiled by incoming wage talks," Jyri Hakamies, the head of the Confederation of Finnish Industries, EK, said in an interview. "Economic forecasts are not getting better but turning worse in the next few years."
Read more: Internal devaluation proves its use in Finland with some help
The country is still behind its main export rivals in terms of competitiveness. According to a recent study by EK, unit labor costs -- an indicator used by economists to rank countries' competitiveness -- are still 1 percent higher in Finland than in Sweden and 5 percent higher than in Germany.

Finnish GDP is still below its all time highs a decade ago when telecoms giant Nokia Oyj dominated the global mobile phone market and when exports to Russia were still growing.
There's also hope the government will step in and bridge the gap in the form of tax incentives.
Read more on how Finnish wage-setting is becoming more fragmented
Conservative Finance Minister Petteri Orpo on Tuesday hinted the government might be ready to cut income tax in order to support workers' purchasing power.  
Orpo said decisions should be made in budget negotiations by the end of August and called on all parties to exercise moderation in the talks.
"We've made great sacrifices as we've worked together to boost competitiveness and this is the time to exercise restraint," Orpo told reporters. "It would be crazy to miss out on the benefits of economic growth that we're just now starting to see."
Before it's here, it's on the Bloomberg Terminal.
LEARN MORE