U.S. Inflation Remains Subdued as Core Index Lags Forecasts
By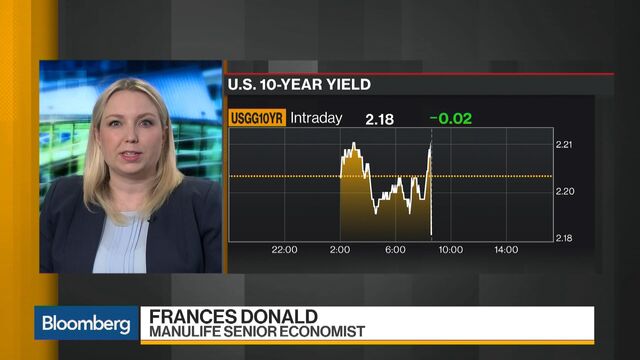 A below-forecast rise in the U.S. cost of living in July adds to a string of disappointing readings, potentially putting the Federal Reserve's inflation goal even further away, a Labor Department report showed Friday.
Highlights of Consumer Price Index (July)
Consumer price index rose 0.1% m/m (est. 0.2%) after being unchanged the prior month; up 1.7% y/y (est. 1.8%)
Excluding food and energy, so-called core CPI rose 0.1% m/m (est. 0.2%); up 1.7% y/y (matching est.)
Price of lodging away from home fell by a record 4.2% m/m; new vehicle prices dropped 0.5%, most since 2009


Key Takeaways
The U.S. inflation slowdown may be getting longer, even after most economists and Federal Reserve policy makers judged it to be transitory. A more sustained ebb in price pressures could make it tougher for the central bank to stay on course for one more interest-rate increase this year.
The record drop in the lodging away from home category reflects a plunge in prices at hotels and motels, and follows a smaller decline of 1.9 percent in June. The continuing fall in vehicle prices also may reflect weakness in auto sales. Other categories showed increases including apparel, medical care and transportation services.

The figures follow data Thursday showing wholesale prices unexpectedly decreased 0.1 percent in July from the prior month, the first drop in nearly a year, reflecting widespread declines across groups such as chemical wholesalers, retail apparel and airline services.
The Fed targets 2 percent inflation based on a separate Commerce Department price gauge, which will next be updated on Aug. 31. New York Fed President William Dudley said Thursday that "it's going to take some time" for inflation to rise to the central bank's target even as he offered a generally positive outlook for the U.S. economy, job market and price pressures.
Economist's View
"It is a weak reading," said Ward McCarthy, chief financial economist at Jefferies LLC in New York, who correctly forecast a 0.1 percent rise each for the CPI and the core measure. Right now, a December interest-rate hike from the Fed "is almost like a coin toss."
Other Details
Energy prices fell 0.1 percent from previous month, reflecting a 2.3 percent drop in natural gas; food costs rose 0.2 percent
The CPI for new and used vehicles each fell 0.5 percent; air fares rose 0.7 percent
Shelter costs rose 0.1 percent, with a 0.3 percent increase in owners-equivalent rent, one of the categories designed to track rental prices
Expenses for medical care rose 0.4 percent; these readings often vary from results for this category within the Fed's preferred measure of inflation due to different methodologies
Hourly earnings adjusted for inflation rose 0.7 percent from July 2016, after a 0.9 percent gain, a separate report from the Labor Department showed
The CPI is the broadest of three price gauges from the Labor Department because it includes all goods and services. About 60 percent of the index covers the prices that consumers pay for services ranging from medical visits to airline fares, movie tickets and rents
— With assistance by Sho Chandra
Before it's here, it's on the Bloomberg Terminal.
LEARN MORE