markets
Trump Doubling Down on Rhetoric Rattles South Korean Markets
By and
Korea's volatility index jumps, while yen, gold advance

North Korea risk has become a global risk, Shinhan BNP says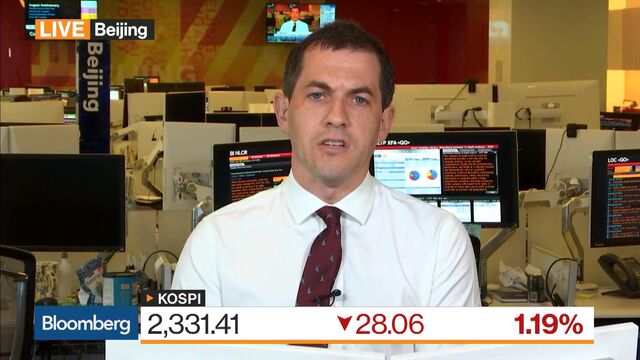 South Korea's stocks and currency fell after President Donald Trump warned North Korea that if it "does anything" to the U.S. or its allies "things will happen to them like they never thought possible."
The Kospi index dropped 1.7 percent at the close of trading in Seoul, rounding off a 3.2 percent decline for the week, the worst since June 2016. The won weakened 1.6 percent against the dollar for the week, the most since March. The Kospi 200 volatility index jumped as much as 27 percent Friday. The cost of insuring five-year South Korean sovereign bonds from nonpayment rose by 5 basis points Friday morning to 69 basis points, according to prices from Nomura Holdings Inc.
Trump delivered the fresh warning to reporters Thursday in Bedminster, New Jersey, after a lunch with Vice President Mike Pence, saying his comments Tuesday that the U.S. would bring down "fire and fury" on North Korea, maybe weren't tough enough.

The latest continues days of escalating rhetorical exchanges between the U.S. and North Korea sparked, in part, by the Aug. 5 unanimous vote in the United Nations Security Council to impose new sanctions on the Kim Jong Un's regime.
"The issue of North Korean risk is not just a matter for us -- it has actually
become a global risk," said Jung Sung Han, a fund manager at Shinhan BNP Paribas Asset Management Co. in Seoul. "I see there's nothing much to earn for foreign investors from now on as shares have been corrected and won has also been weakened a lot."
In U.S. markets, the S&P 500 Index fell 1.5 percent Thursday, the most in three months, and the CBOE Volatility Index soared 44 percent. Gold jumped to a nine-week high and the yen pushed toward 109 per dollar.
Read More: What are the options for dealing with North Korea
South Korea will strengthen monitoring of financial markets and economy, and take action based on a contingency plan in case of any unusual movements, the Finance Ministry said in a statement after meeting with other ministries, Bank of Korea and financial regulators.
Not all were pessimistic about the outlook for the market. North and South Korea have tangled for decades and never signed a peace treaty formally ending the war of the early 1950s.
There's "nothing much to earn" by selling South Korean equities at the moment, said Heo Pil-Seok, chief executive officer at Midas International Asset Management. "It's not first time for us to witness this kind of geopolitical risk. We are psychologically immune to this kind of issue."
Overseas investors pulled a net $577 million from South Korea's equities market Friday, trimming its year-to-date inflows to $7.3 billion, according to data compiled by Bloomberg using official figures.
"The equity markets are in risk reduction mode as investors move to secure liquidity with speculators exacerbating moves through tactical shorts," Stephen Innes, head of trading at for Asia-Pacific at Oanda Corp. in Singapore, said in a note Friday. "Considering the limited steps in forex, the signals suggest we're in the midst of a global risk asset consolidation as opposed to a deeper retreat, however."
The won's drop this week has dethroned the currency from being Asia's best performer this year up until the end of July.
"The markets have been on risk-on mode for 2017, so taking funds off makes lots of sense given rising volatility and the risk," said Roy Teo, a currency strategist at LGT Bank Ltd. in Singapore.
— With assistance by Adam Haigh, Lilian Karunungan, Lianting Tu, and Yumi Teso
Before it's here, it's on the Bloomberg Terminal.
LEARN MORE