RBA Has Been 'Patient' as Unemployment Holds Steady, Says Lowe
By
Bank carefully watching Aussies' consumer spending behavior

Testimony signals that unemployment rate is key metric: RBC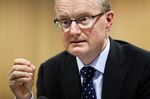 Start your day with what's moving markets in Asia. Sign up here to receive our newsletter.
Australia's central bank chief said market expectations of an interest rate hike some way down the track were reasonable and signaled employment was a key metric to track.
The bank "has been prepared to be patient" on monetary policy, a position bolstered by a steady jobless rate, Governor Philip Lowe said in his statement to a parliamentary panel in Melbourne Friday. The central bank is balancing providing stimulus to the economy while trying to discourage household debt from rising too high, he said.
"Current market pricing implies greater probability of a rate rise than a rate reduction, it also implies that the next move in interest rates is a long way out," Lowe said in response to a lawmaker's question. "I think they're both reasonable assumptions that the next move will be up rather than down."
The Reserve Bank of Australia forecasts economic growth will accelerate to about 3 percent, above its estimated speed limit, as the drag from falling mining investment ends and liquefied natural gas exports come on line. Its benchmark rate has been kept at a record low 1.5 percent for the past year and traders see little chance of an increase in the next 12 months. 
The governor's introductory statement "suggested that the unemployment rate continues to play a key role in policy deliberations," said Su-Lin Ong, head of Australian economic and fixed-income strategy at Royal Bank of Canada. "Any break out of the broad 5½-6 percent range that has prevailed over the last two years for the unemployment rate on a sustained basis is likely to shift the bank's policy bias."

While hiring has strengthened recently, policy makers are still concerned about the outlook for consumption as heavily indebted consumers struggle with meager wage gains and rising utilities costs.
"The household sector is also dealing with higher levels of debt relative to income," Lowe said in his statement. "Higher electricity prices are also affecting household budgets. This all means that consumer spending behavior is something we continue to watch carefully."
The governor told lawmakers that any rate increases would have a greater impact than in the past due to Australians' high debt burden. Household debt is currently at a record 190 percent of income.
"This setting of monetary policy is supporting employment growth and a return of inflation to around its average rate of the past couple of decades," Lowe said. "The board is seeking to do this in a way that does not add to the medium-term balance-sheet risks facing the economy."

Another challenge for the RBA has been a 9 percent gain in the currency this year that's eroded the competitiveness of exporters.
"The recent appreciation means lower prices for imported goods and it is weighing on the outlook for domestic output and employment," Lowe said in his statement, reiterating previous comments. "Further appreciation, all else constant, would cause a slower pick-up in inflation and slower progress in reducing unemployment."
In response to a question that foreign-exchange intervention was one of the tools the RBA has in reserve, Lowe said there are scenarios where they would be prepared to intervene, "but they're pretty remote scenarios."
Toward the end of the session, questions on China's markets were asked. Deputy Governor Guy Debelle noted every country that deregulated its markets struggled with consequences that were difficult to manage. He said China has also been "tightening up" on aspects of the financial system. 
Open Question
"To date that hasn't had an effect on the overall macro-economy there. That doesn't mean that it won't eventually and we are still seeing debt levels continuing to rise," Debelle said. "Will that eventually come unstuck? I think that really is the open question and one we're paying a lot of attention to. And it is a material risk for both the Chinese economy and the rest of the world."
Debelle also noted that most of China's debt is internal, quite different from other nations that had large foreign currency debt and ran into trouble. Its characteristics "are challenging but different," he said.
Lowe said recent inflation results suggest that consumer prices had troughed and were gradually increasing. He also said the hot housing markets in Sydney and Melbourne showed "some signs of slowing," although they're not yet definitive.
The governor said a positive has been the pick up in employment that should boost incomes. Australia's past two job reports showed the biggest back-to-back full-time employment gains in almost 30 years.
"In recent months employment growth has been noticeably stronger and more people have entered the labor force," Lowe said. "Our central scenario is for the national unemployment rate to move gradually lower, although it is likely to be some time before we reach what could be considered full employment in Australia."
Before it's here, it's on the Bloomberg Terminal.
LEARN MORE