Kashkari Says Fed Concerns Over Inflation Based on 'Ghost Story'
By and
Says central bank can wait for signs of wage, price pressures

Dallas Fed chief Kaplan also said 'I'm willing to be patient'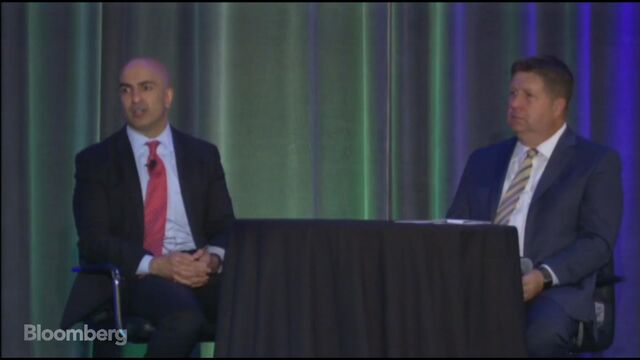 Federal Reserve Bank of Minneapolis President Neel Kashkari said his colleagues at the U.S. central bank have voted to raise interest rates because they are worried about accelerating inflation in the future, a concern he likened to a "ghost story."
"People are worried that, if wages start to climb, if businesses have to compete with each other, you may not get gradual wage growth," he said Friday during a talk in Bloomington, Minnesota. "You might all of a sudden get an acceleration in wages."
"I call this -- and I mean this with no disrespect -- I call this a ghost story, meaning, I cannot prove to you that there's not a ghost underneath this table," he said. "I cannot prove it definitively. There may be. But there is no evidence that there is a ghost under this table. There is no evidence in any of the data that wages have this acceleration factor and are all of a sudden going to take off."
Kashkari, who joined the central bank in 2016 and started voting on the policy-setting Federal Open Market Committee this year, dissented against decisions to raise rates in March and June that were otherwise unanimous. Fed policy makers next meet Sept. 19-20.
He spoke just hours after a Labor Department report showed a third straight month of lower-than-expected inflation readings. Kashkari argued that the central bank has the luxury of waiting to raise rates until it sees more signs of wage and price pressures.
Speaking at a different event in Texas, Dallas Fed President Robert Kaplan also said the Fed can hold off on raising interest rates until inflation shows signs of picking up. Kaplan votes on monetary policy this year, though he backed its decision to hike in March in June.
"I at this stage want to see continued evidence -- or more evidence -- that we're making progress on reaching our inflation objective," he said. "I'm willing to be patient."
Before it's here, it's on the Bloomberg Terminal.
LEARN MORE