Joe Biden Endorses Candidate in Alabama Senate Race
THE ASSOCIATED PRESS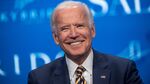 Follow @bpolitics for all the latest news, and sign up for our daily Balance of Power newsletter.
Montgomery, Ala. (AP) -- Former Vice President Joe Biden has endorsed a Democratic candidate in Alabama's U.S. Senate race to fill the seat previously held by Attorney General Jeff Sessions.
Biden said in recorded calls that Doug Jones, a U.S. attorney during Bill Clinton's administration, is his friend. He asked people to vote for Jones in the Aug. 15 Democratic primary.
Biden says Jones has "spent his entire life fighting for justice."
Biden recounted how Jones prosecuted the final two Ku Klux Klansmen convicted of bombing a Birmingham church in 1963. The blast killed four black girls.
Biden said Jones will take that same "energy and drive and fight for you and your families in the U.S. Senate."
Jones, one of seven Democrats running, said he was honored to have Biden's support.
Before it's here, it's on the Bloomberg Terminal.
LEARN MORE