markets
Hong Kong's Growth Exceeds Estimates as Outlook Upgraded
Bloomberg News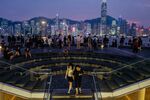 Hong Kong's economy expanded faster than expected in the second quarter, leading to an upward revision of the official full-year growth forecast.
Key Points
Gross domestic product expanded 3.8 percent in the three months through June from a year earlier, the government said Friday. That compares with the median estimate for 3.3 percent from 11 analysts surveyed by Bloomberg News 
The economy expanded 1 percent in the second quarter from the previous three months, more than the forecast 0.6 percent rise
The government raised its forecast for full-year growth, saying 2017 performance would be between 3 percent and 4 percent, up from the 2 percent to 3 percent range estimated in May

Big Picture
Rising asset prices, including home values, and strong consumer spending backed by low unemployment are driving performance in the former British colony. That said, a potential bursting of the house-price bubble remains the biggest domestic threat to output.
"In view of the likely positive developments on both the external and domestic fronts, the Hong Kong economy is expected to attain further solid growth in the rest of the year," the government said in a statement. "The generally benign global economic environment remained supportive to external demand."
Economist Takeaways
While positive, the reading may be as good as it gets this year because strength in capital spending may not last, and soaring house prices are still a major concern, said Chang Liu, an economist at Capital Economics Ltd. in London. "Growth will slow in the coming quarters," Liu wrote in a note. "While buoyant external demand is likely to keep export growth relatively strong, growth in investment should fall in the second half of this year as base effects turn less favorable."
The Details
Total exports of goods increased 5.6 percent year-on-year in real terms; services exports grew a real 2.3 percent year on year
Private consumption expenditure grew 5.3 percent year on year in real terms
Seasonally adjusted unemployment slipped to a three-year low of 3.1 percent
Investment expenditure strengthened by 8 percent year-on-year in real terms
— With assistance by Yinan Zhao, and Enda Curran
Before it's here, it's on the Bloomberg Terminal.
LEARN MORE