Trump 'Very Disappointed' in McConnell Over Obamacare Inaction
By and
President tells McConnell to 'get back to work' in tweet

McConnell had critiqued Trump's desire for quick action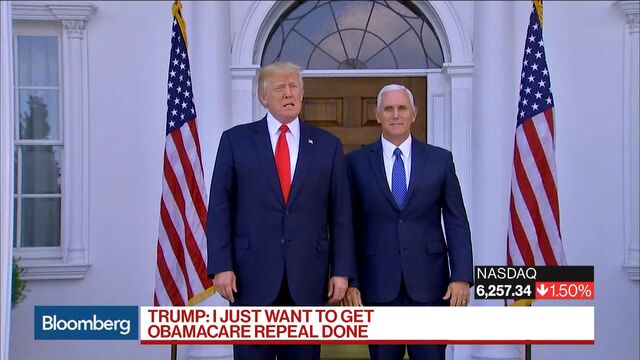 President Donald Trump said Thursday he's unhappy with Senate Majority Leader Mitch McConnell over Congress's failure to eliminate Obamacare, escalating a war of words with a fellow Republican who is key to advancing the president's agenda.
"I'm very disappointed in Mitch," the president told reporters after assailing McConnell on Twitter for two days. One tweet called on the Senate to get "back to work" on the GOP's goals.
Trump is taking on a Republican leader who will have significant sway over whether the president's legislative agenda advances, including an overhaul of taxes and approving more money for roads and other infrastructure projects.
"If he gets these bills passed, I'll be very happy with him," the president told reporters at his golf resort in Bedminster, New Jersey, where he is on a working vacation. "Honestly, repeal and replace of Obamacare should've taken place. And it should've been on my desk virtually the first week I was here."
Earlier Thursday, Trump said he would withhold judgment when he was asked by a reporter whether McConnell should step down. "If he doesn't get repeal and replace done," along with taxes and infrastructure, Trump said, "then you can ask me that question." 
McConnell kicked off the public conflict with Trump on Monday in his home state of Kentucky by saying the president had "excessive expectations" that the Senate could pass a stripped-down version of a GOP Obamacare repeal last month. One reason some people believe Congress hasn't done much yet, McConnell said, "is because, in part, the president and others have set these early timelines about -- things need to be done by a certain point."
"Our new president, of course, has not been in this line of work before, and I think he had excessive expectations about how quickly things happen in the democratic process," said McConnell.
Trump responded with three furious tweets, starting on Wednesday with, "Senator Mitch McConnell said I had 'excessive expectations,' but I don't think so. After 7 years of hearing Repeal & Replace, why not done?"
On Thursday, the president wrote, "Can you believe that Mitch McConnell, who has screamed Repeal & Replace for 7 years, couldn't get it done. Must Repeal & Replace ObamaCare!" Later, he attacked the majority leader in another posting: "Mitch, get back to work and put Repeal & Replace, Tax Reform & Cuts and a great Infrastructure Bill on my desk for signing. You can do it!"

Different Styles
The back-and-forth between the president and the Senate Republican leader highlights the starkly different governing styles of the two men. The president's freewheeling and off-the-cuff actions contrast with McConnell's rigorously disciplined method of leading the Senate. Though McConnell has largely refrained from criticizing Trump, he has on occasion critiqued the president's use of Twitter as unhelpful to GOP lawmakers' efforts to stay on message in pursuing their priorities.
Trump and McConnell spoke by phone Wednesday before Trump sent the first tweet, presidential spokeswoman Sarah Huckabee Sanders told reporters Thursday in New Jersey.
"Obviously there's some frustration," Sanders said.
Congressional Failure
The public spat has some Republicans calling for calm as Congress is poised to take on an array of tough issues next month, including the debt ceiling, appropriations and taxes. Representative Tom Cole of Oklahoma said on CNN that he didn't want to take sides and that McConnell and Trump need each other to press on with the party's agenda. Cole said not repealing Obamacare was a congressional failure, not a presidential one. However, he said, "This isn't a time we need to throw rocks at one another."
Former House Speaker Newt Gingrich, a Republican, on Thursday defended McConnell on Fox News. "The president can't disassociate himself with this," Gingrich said of the health-care vote. "It was a collective failure."
Gingrich said it was "goofy" for Republicans to be turning against one another, and that given the complexity of the issue he believes it could take between three and five years and as many as a dozen legislative attempts to replace the Affordable Care Act. Gingrich said he also is concerned that if Republicans bungle attempts to overhaul taxes after the August recess, it could be a political "disaster."
McConnell spokesman David Popp said in an email Wednesday that the majority leader has already spoken about the path forward on Obamacare repeal and had no further comment. He said Thursday he had nothing further to add.
The clash follows weeks of mismatched strategy and building tension between Trump and McConnell before the collapse late last month of the GOP's drive to replace Obamacare.
Shortly before a week-long July 4 recess, Trump tweeted that Republicans should simply repeal the Affordable Care Act rather than replace it -- just as McConnell was seeking to reel in wayward conservatives to a broad rewrite of the health law. Later, as McConnell's GOP-only rewrite was losing support, Trump invited Republican senators to the White House and urged them to continue. Finally, McConnell brought a bare-bones repeal to the Senate floor and it failed by one vote.
— With assistance by Margaret Talev, and Toluse Olorunnipa
Before it's here, it's on the Bloomberg Terminal.
LEARN MORE