Toshiba Reports Loss With Auditor's Qualified Endorsement
By
Books record $8.8 billion loss after nuclear-unit writedown

Forecasts return to profit in the current fiscal year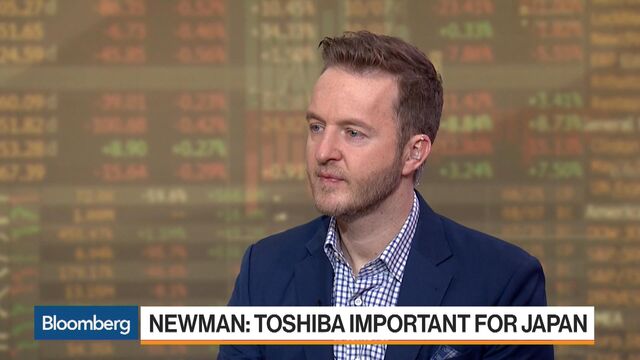 Toshiba Corp.'s auditors signed off on its full-year earnings, offering some temporary relief as the Japanese company struggles to stabilize after an accounting scandal, massive writedowns and a legal spat that threatens to delay the sale of its chips business.
The industrial and consumer electronics maker reported a 965.7 billion yen ($8.8 billion) net loss for the year ended March 31, it said in a statement. That compares with a 977.4 billion yen loss average of analysts' estimates and the Tokyo-based company's own outlook of as much as 1.01 trillion yen. Toshiba forecast a 230 billion yen in net income for the current fiscal year.
While the qualified endorsement for the numbers marks a milestone for Toshiba, PricewaterhouseCoopers Aarata also criticized the company's internal controls. Toshiba said that the adverse opinion may have a "severe negative impact" on its financing, earnings and ability of shareholders to sell their shares. The company has been on a watchlist for possible expulsion from the Tokyo Stock Exchange after overstating profits to cover up multibillion-dollar losses in its nuclear business. It may face a delisting depending on a review by the exchange, or if it fails to patch up its balance sheet by March 2018.
"The fact that they have finally managed to file and got a qualified endorsement is good news," said Hideki Yasuda, an analyst at Ace Research Institute. "That's not to say that the risk of delisting is gone, but at least they've cleared the most immediate hurdle."
Toshiba has to sell its flash memory unit by March 2018 to avoid reporting negative shareholders' equity for a second fiscal year, which would automatically trigger a delisting. The divestment may raise about 2.1 trillion yen, according to people familiar with the matter. An initial public offering of energy-metering company Landis+Gyr AG will earn Toshiba another 161.7 billion yen for its 60 percent stake, the company said last month.
The shares of Toshiba rose 2.4 percent to 297 yen as of 12:48 p.m. in Tokyo. The stock has climbed 4.6 percent this year as David Einhorn's Greenlight Capital, Effissimo Capital Management and King Street Capital Management joined the list of investors.
The Japanese company said the current year profit outlook includes proceeds from the Landis IPO, but not from the chip unit. Toshiba is forecasting a 59 percent rise in operating profit to 430 billion yen, while sales will climb to 4.97 trillion yen.
Toshiba also reported earnings results for the latest quarter, which ended June 30. Operating profit climbed almost sixfold from last year to 96.7 billion yen as profit from chip operations quadrupled. Sales rose 8.2 percent, while net income fell 37 percent to 50.3 billion yen.
Before it's here, it's on the Bloomberg Terminal.
LEARN MORE