Business
The Death and Life of Helicopter Commuting
Inexpensive flying had a moment 40 years ago, then horrific tragedy struck. Now a comeback is on the horizon.
By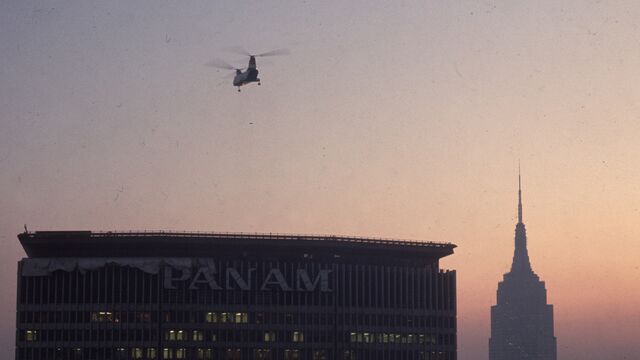 Fifty years ago, a helicopter company called New York Airways whisked passengers from the rooftop of the iconic Pan Am Building in midtown Manhattan to any city airport in just 10 minutes. Unlike most private charters nowadays, which can cost thousands of dollars per trip, the scheduled service was frequent and relatively affordable—as little as $40 in today's dollars.
The era of rooftop helicopter travel ended on May 16, 1977, however, when an idling Sikorsky S-61's landing strut gave way and the aircraft tipped over. Four passengers waiting in line were killed by the rotor blades, and a fifth person 800 feet below died when shrapnel fell to Madison Avenue.

In the wake of this gruesome disaster, the rooftop heliport was shuttered and New York Airways filed for bankruptcy two years later. Since the carrier's demise, other ventures have attempted to replicate the scheduled service model without success. Concerns about noise and safety along Manhattan's now-populated waterfront have caused the city to restrict air traffic in recent years, further curtailing attempts to scale helicopter service.
But a new chapter in short-distance airborne commuting may be on the horizon. A startup called BLADE is using ride-sharing technology of the Uber variety to make a helicopter rush-hour feasible again. Wrapped in a sophisticated brand that harkens back to the golden age of 1960s commercial travel, BLADE is expanding its presence in major American cities and will soon go abroad as well.
Further into the future, aviation technologists are looking to something called e-VTOL (Electric Vertical Takeoff and Landing) that could revolutionize short-distance transit in congested cities like New York. Although these nimble, battery-powered rotorcraft are highly experimental, they've attracted the attention of well-heeled Silicon Valley investors, including Google's Larry Page.

It's been decades since the rooftop tragedy and Pan Am's name vanished from the building long ago, but if e-VTOL takes off, companies like BLADE could pick up where New York Airways left off—introducing a new era of convenient airborne shuttle service. As New York City's traffic and transit infrastructure continues its slow-motion collapse, the prospect of commuting at 1000 feet seems more attractive than ever.
For more on flying cars, check out the Decrypted  podcast:
Before it's here, it's on the Bloomberg Terminal.
LEARN MORE